So… I wrote a book! After selling on Etsy for the past three and a half years, I realized I'd learned a lot about being an Etsy seller and growing an online business, so I decided to write a couple of blog posts explaining the strategies I'd developed and use in my own online business including what's worked and what hasn't work so well, what I'd do differently etc. Once I started typing out all my thoughts, I realized I had wayyy too much information for just a couple of blog posts. I spent an entire weekend pounding on the keyboard knocking out 20,000 words – and I still wasn't finished. After a few weeks, 'I'll write a couple of blog posts' ended up turning into a 215 page (63,500! word) ebook: 54 Mistakes Etsy Sellers Make (and How to Fix Them).
The ebook identifies 54 mistakes I see Etsy sellers making time and time again, and both tells and shows HOW to fix them – it will transform your Etsy shop from surviving to THRIVING. This super comprehensive ebook also contains all of my tried and tested strategies that I've used over the last 3.5 years to earn over 14,000 sales and tens of thousands of dollars between my 2 Etsy shops, AllAboutTheHouse and PaperCravings.
Let's rewind back to when I started my online business a few years ago: I wasted hours upon hours scouring the internet for quality Etsy business advice and instead found myself reading endless '10 tips to increase sales' type blog posts with state-the-obvious general 'tips' that weren't helpful. This was (and still seems to be!) the only type of information out there for Etsy sellers. I soon discovered that all that free information was free for a reason. It wasn't very good and it wasn't helping me grow my Etsy shop. It was just wasting my time, time that could have been better spent actually working on the business. If you're reading this blog post them I'm guessing you're in a similar place at the moment.
If you want to stop wasting time consuming all that useless free information, then this ebook is EXACTLY what you need to grow your business and start making a healthy consistent income online. The strategies in this book are all my own strategies I've developed through trial and error while growing my Etsy shop – I'm honest about what's worked really well and what strategies ended up being a waste of time. If you want to take the express route to having a successful Etsy shop, then you need this ebook.
54 Mistakes Etsy Sellers Make (and How to Fix Them) can be purchased via my main Etsy shop, AllAboutTheHouse or in the online shop.
Want to download a free sample of a few mistakes in from the book? Click here.

TOPICS COVERED IN THE BOOK (BUT NOT LIMITED TO) ARE:
– Ways you don't even realize you're turning customers away
– Fostering repeat business
– Competitive market research
– My step by step market research product viability process I use to determine whether a product is worthwhile or if it's likely to be a flop
– SEO, social media & marketing you shop (what to do and what NOT to do)
– In-depth shop analytics analysis
– Simple changes and tweaks that make a big difference
– How to find your target customers
– How to make more money from the products you already have (and with minimal effort)
– Pricing
– Shipping
– Shop management
– Improving efficiency and workflow
– Product photos (mistakes that are so easy to fix and yet most people don't do them)
– Product descriptions/sales copy
– How to convert browsers into buyers
– Bookkeeping
– Goal setting & business planning
– Key differences between hobby Etsy shops and business Etsy shops
– And much more top secret information!!
Also included are my favorite resources I've used to grow my Etsy shop, and which you can use to help turn your shop into a thriving business 🙂
Most ebooks will tell you what to do, but not HOW to do it. This ebook is different. I share all of the strategies I've devised from my 3.5 years of selling on Etsy. You know how to set up an Etsy shop, let's move past the introductory stuff and get into the real strategies. This ebook does NOT have regurgitated information; these are my own personally devised methods, my tried and true formulas for generating a consistent healthy income online from my Etsy shops.
WHO IS THIS EBOOK FOR?
– Newbie and experienced Etsy sellers (yes, there are mistakes in this book that even experienced Etsy sellers make!), in ANY niche – the mistakes in this ebook are made by digital and physical product sellers, handmade Etsy shop owners, and those that sell supplies
– If you want to stop wasting time on, quite frankly, crappy, regurgitated, basic advice and want quality tried and tested strategies I've personally developed and which ACTUALLY WORK
– This ebook is full of actionable content. I give TONS of examples and step out exactly what you need to do (and what not to do)
– This is a super comprehensive ebook – 215 pages (63,500 words of insanely useful advice). It includes a clickable table of contents for quick and easy navigation. The information is set out in an easy to digest format with the mistakes in suggested numerical order (although you can complete them in any order depending on what stage of your business you're at or if you want to start with your problem areas first).
_______________________________________
Learn from someone that actually practices what they preach and actually has a business that's made more than a couple of hundred sales (I'm not one of those people whose business is selling you an ebook about running a business because we both know those types of books are just regurgitated useless or state-the-obvious information that will get you nowhere).
I could have packaged this up into an ecourse and charged a couple of hundred dollars for it, but I wanted it to be affordable. Opening an etsy shop was one of the best decisions of my life – it's so much fun and I get to meet customers from all over the world!
So if you know you deserve a better return for the time invested in your business, you know you should be further along on your business by now and if you're actually serious about turning your Etsy shop into a thriving business, then this book will help you make your dream a reality.
_______________________________________
WHO WROTE THIS EBOOK?
Hey there! I'm Rachael, a 20-something Aussie addicted to graphic design. Over the past 4 years I've created over 4,000 printables, some of which you can find in my Etsy shops: AllAboutTheHouse where I sell organization & party printables and PaperCravings where I sell graphic design resources.
This book is a culmination of EVERYTHING (literally everything) I've implemented and taught myself through my experience selling digital products on Etsy for the past 3.5 years, and assisting my sister with her Etsy shop, Carefully Crafted where she sells physical products.
I have made thousands of dollars from correcting some of the mistakes found in this ebook – the cost of this ebook is less than $1 per mistake – it's a no brainer!
If you want to upgrade, the ebook is also part of the following bundles: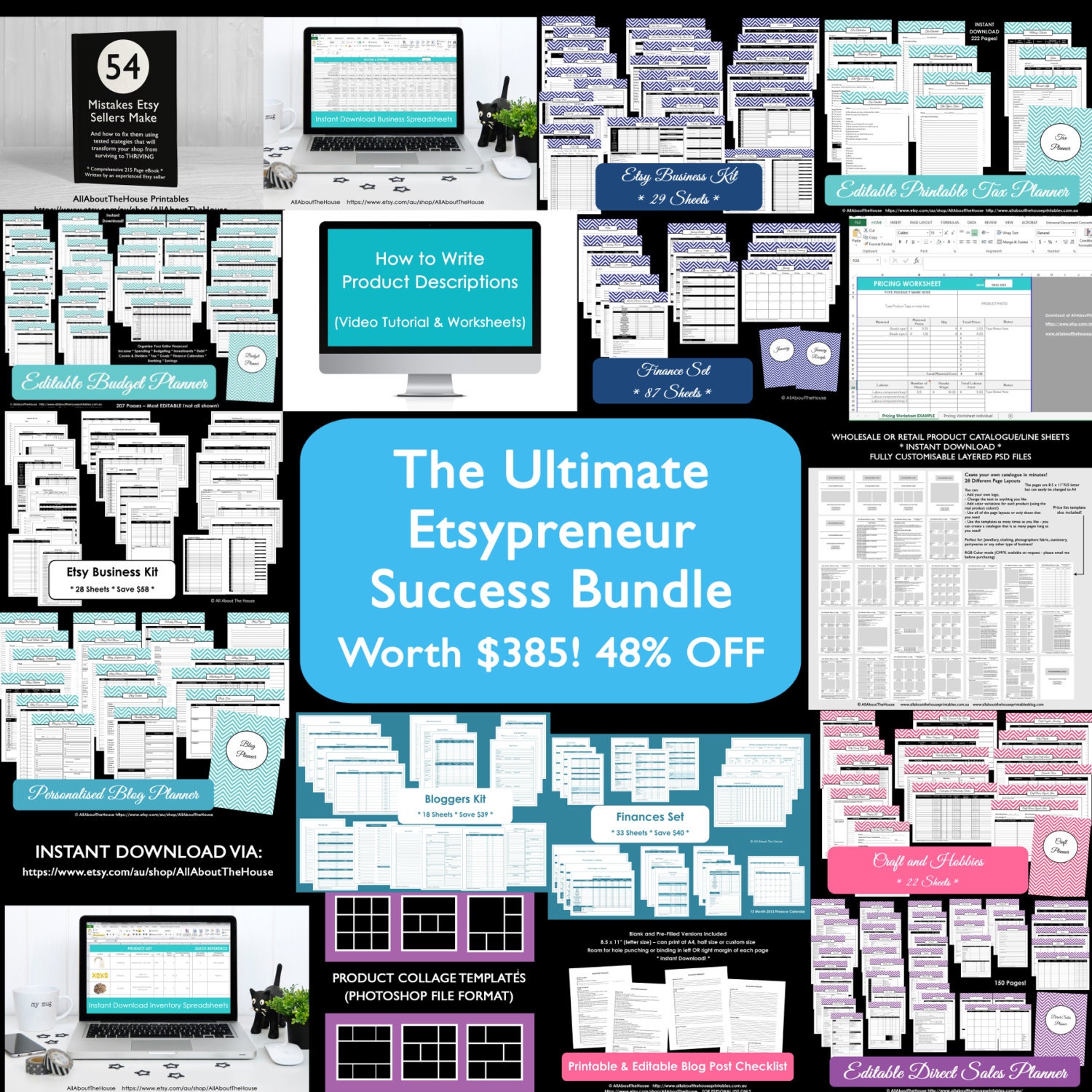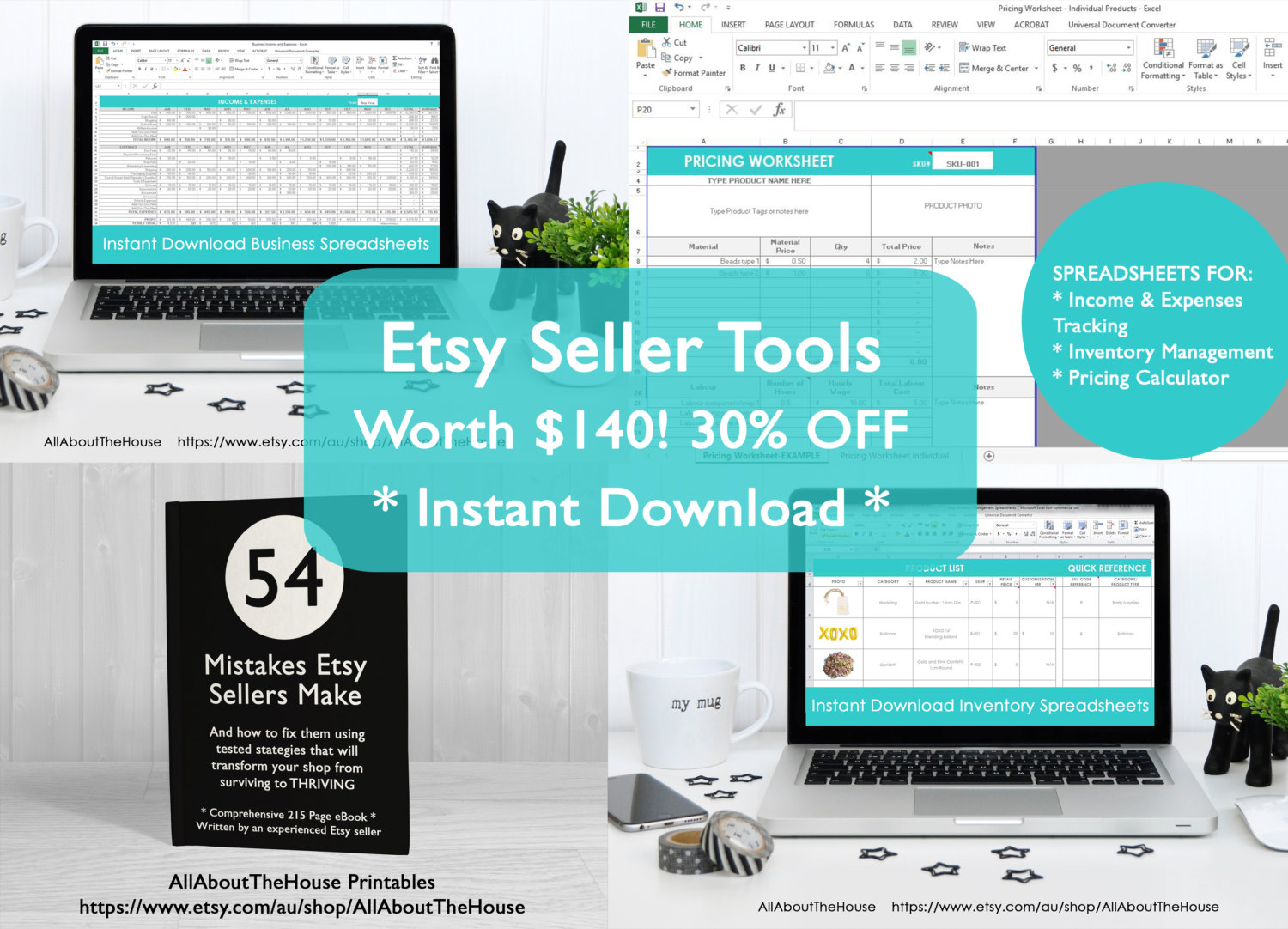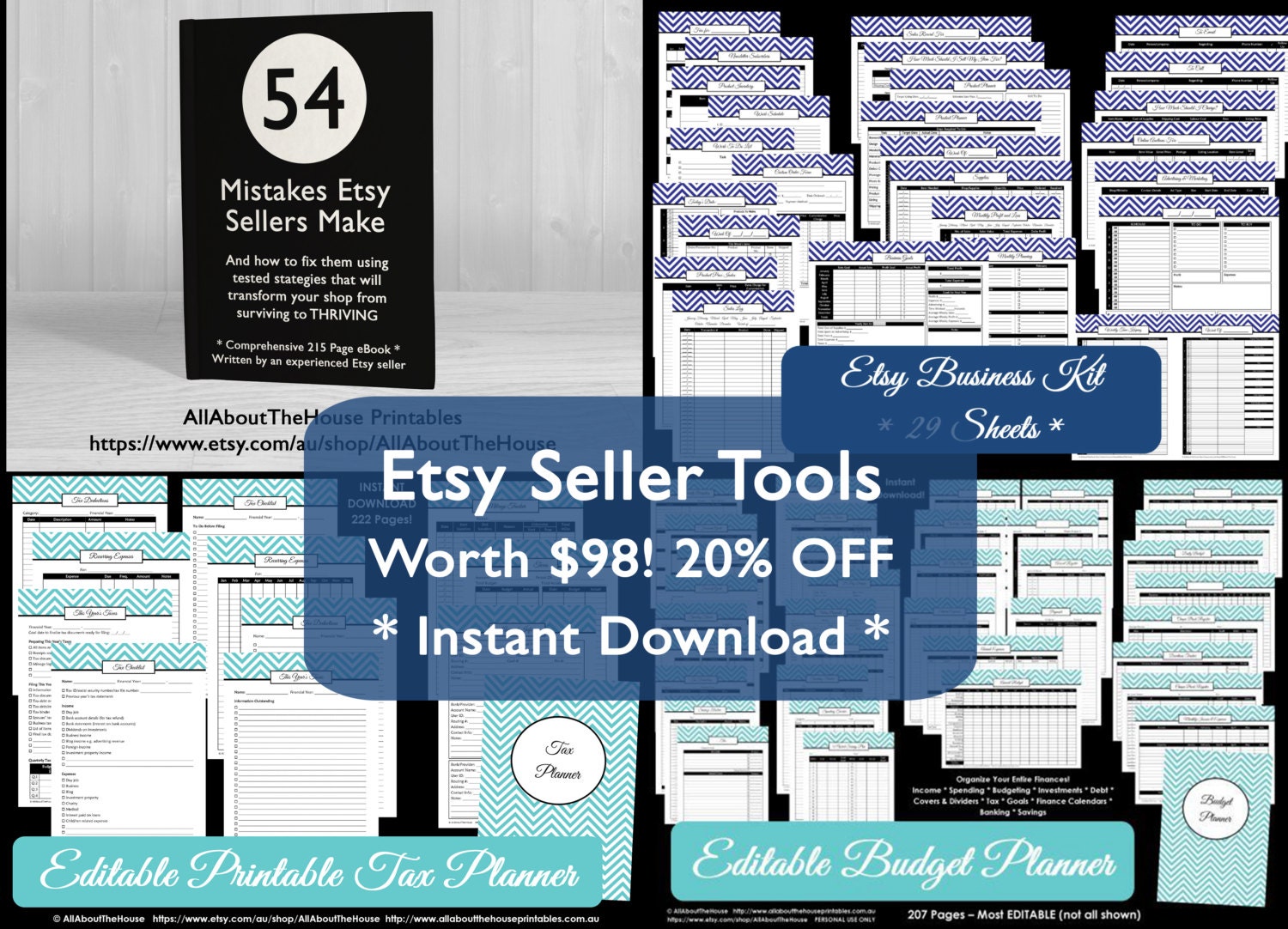 Other business products from my shop you may be interested in:
– Order form template in chevron pattern or polka dot
– Catalogue template
– Shop Inventory spreadsheets
– Pricing spreadsheet template to work out how much you should be charging
– How to write product descriptions mini ecourse 
– Blog planner
– Business planner (no chevrons) 
– Business planner (with chevrons) 
– Finance binder (no chevrons) 
– Budget binder EDITABLE 
– Get it all printable planners
– Tax planner (EDITABLE) 
– Direct Sales Planner (EDITABLE) 
– Work at home mama kit
– How to make labels in Photoshop ecourse (can be used to make product labels, address labels or any type of label for your business) 
I hope you find this ebok super helpful 🙂 54 Mistakes Etsy Sellers Make (and How to Fix Them) can be purchased via my main Etsy shop, AllAboutTheHouse or in the online shop.