Need a system for keeping track of your Etsy shop or online store's inventory? I recently added some Excel inventory spreadsheets to the shop – these are the same spreadsheets I designed for my sister to use to keep track of inventory for her Etsy shop: CarefullyCraftedbyJo.
These 13 Excel spreadsheets are designed to streamline your shop's inventory management, keep track of when supplies are running low and how listings are performing (so you know which products to focus on). Also included are product list templates which you can send to wholesale customers if you want to sell to retailers.
I recorded a video tutorial to show how to use the spreadsheets (or you can read more about each spreadsheet below). They can also be used in Google Docs (free online tool).
To enlarge the screen of the video, click the square icon in the bottom right hand corner of the video (it will say 'full screen' when you hover your mouse over the icon).
Features of these spreadsheets
Can be used for any year
Perfect for digital and physical product sellers
Instructions included in the video tutorial above as well as a downloadable PDF
Instant download
Simple, clean design
Formula's automatically calculate for you!
Here's some more info about each of the spreadsheets:
PRODUCT LIST (WITHOUT SPACE FOR PHOTOS)
This is intended for keeping track of all your finished, ready to sell products. There is a 'quick reference' section where you can note what SKU letters/codes you use for what products.
An SKU# Product Code – is a unique identifier code – use one code per product. It usually consists of letters and numbers. For example, for my planner stickers, one of the SKU codes is HIS001 which means half inch square, sticker style number 1 – you can use any letters or numbers you like, I tend to pick codes that use the first letter of each word, or codes that are easy to remember.
Using this spreadsheet, you can also note the cost price and retail price (which you can refer to if someone is purchasing multiple and you would like to offer a discount but ensure you'll still make a profit), as well as the customisation fee you charge, based on e.g. the extra labour required to add an element to a product based on a customer's request, or additional costs for using a different material etc.
PRODUCT LIST (WITH SPACE FOR PHOTOS)
This is the same as the spreadsheet above but with an additional column if you want to add photos. This spreadsheet is best suited to shops that have a lot of products and each product is slightly different. For example, if you sell washi tape, there are an overwhelming amount of patterns, designs and colours!
The spreadsheets have filter tools which means you can easily sort your products by category and SKU.
It's really easy to add photos: Go to the top ribbon 'insert' tab, click on 'picture' and locate the product's image file from where it is saved on your computer. To resize, hold down shift and click on one of the corners then drag inwards to decrease the size.
SERVICE LIST
Use this if you sell labour/hourly rates based products. For example, shop coaching
WHOLESALE PRODUCT LIST
If you have a person, company or retailer interested in placing a large order with you and you're going to offer them wholesale pricing then use this spreadsheet. You can add photos of the product, the category and name (so you can use one spreadsheet for all of your products and they can filter the categories to see only those they are interested in), product names and SKU (product number codes), how much you currently have in stock, the retail price, the wholesale price, minimum order quantity, bulk order quantity and bulk discount rate if applicable. If you do not need all of these columns you can hide or delete them (instructions are included in the download).
Having a spreadsheet that's easy to follow and includes a picture makes a huge difference when people want to place a wholesale order from you. My sister sells physical products in her Etsy shop, Carefully Crafted by Jo and is always complaining about it being such a hassle and a chore to order from companies that have spreadsheets that lack information and don't include product photos (especially if they sell a lot of similar products). She says it makes her not want to place a large order or view all the products they have on offer i.e. those companies are potentially losing sales!
COGS (COST OF GOODS SOLD)
Use this spreadsheet to calculate the total product cost (cost of materials) as well as labour, packaging, shipping etc. You can keep track of what employee created what product, which is helpful when working out how much they need to be paid, especially if you employ them on an hourly basis.
INVENTORY WITH SPACE FOR PHOTOS
You can use this for your products (if you sell a lot of different types of washi tape, for example), but it is intended for your supplies/material (inputs used to make your products).
INVENTORY WITHOUT SPACE FOR PHOTOS
Same as above but without the column for photos
PRODUCT RESTOCKS
The spreadsheet is formatted for the initial order and up to 4 restocks (you can add more columns if needed). There is space to record the item, the date the order was placed, the date the order was received (this helps you determine lead times and when you should order to ensure you receive the product/supply before you sell out), as well as a section to record when you have updated your inventory after receiving the shipment, updated your expenses and filed away the receipt for the order so you can stay on top of your book-keeping and are organised when tax time comes around!
Related: How to organize your taxes with a printable tax planner
TO ORDER
Use this to keep a list of all the product you need to order (kind of like a shopping list/wish list). You can filter by supplier so you only see all items that need to be purchased from that supplier/store, then print out for a shopping list, or send to your supplier when placing an order with them.
PRODUCT ANALYSIS
Keep track of your total profit for each product, based on quantity sold and profit (sale price less your cost price). This will show you which products you should focus more time on.
The spreadsheet will also tell you which products are your top 10% (most popular – the cells will automatically highlight in green) and which are in your bottom 10% (least popular – the cells will automatically highlight in red). It will do this for both the quantity sold column and the profit column. You can use this information to see which products sell well but perhaps have a low profit margin to assist with pricing and determining the right product mix/amounts to stock.
RENEWED LISTINGS ANALYSIS
I recommend using this for listings that aren't selling very well. Keep track of the date listed/renewed, listed price and quantity sold during each of the 4 quarters of a year. The spreadsheet will automatically calculate the total quantity sold for the year and the average price for the year, there is a notes column to record any notes you want e.g. 'discontinue this product'
The spreadsheet will also tell you which products are your top 10% (most popular – the cells will automatically highlight in green) and which are in your bottom 10% (least popular – the cells will automatically highlight in red) based on the quantity sold (it will tell you for each quarter AND for the entire year).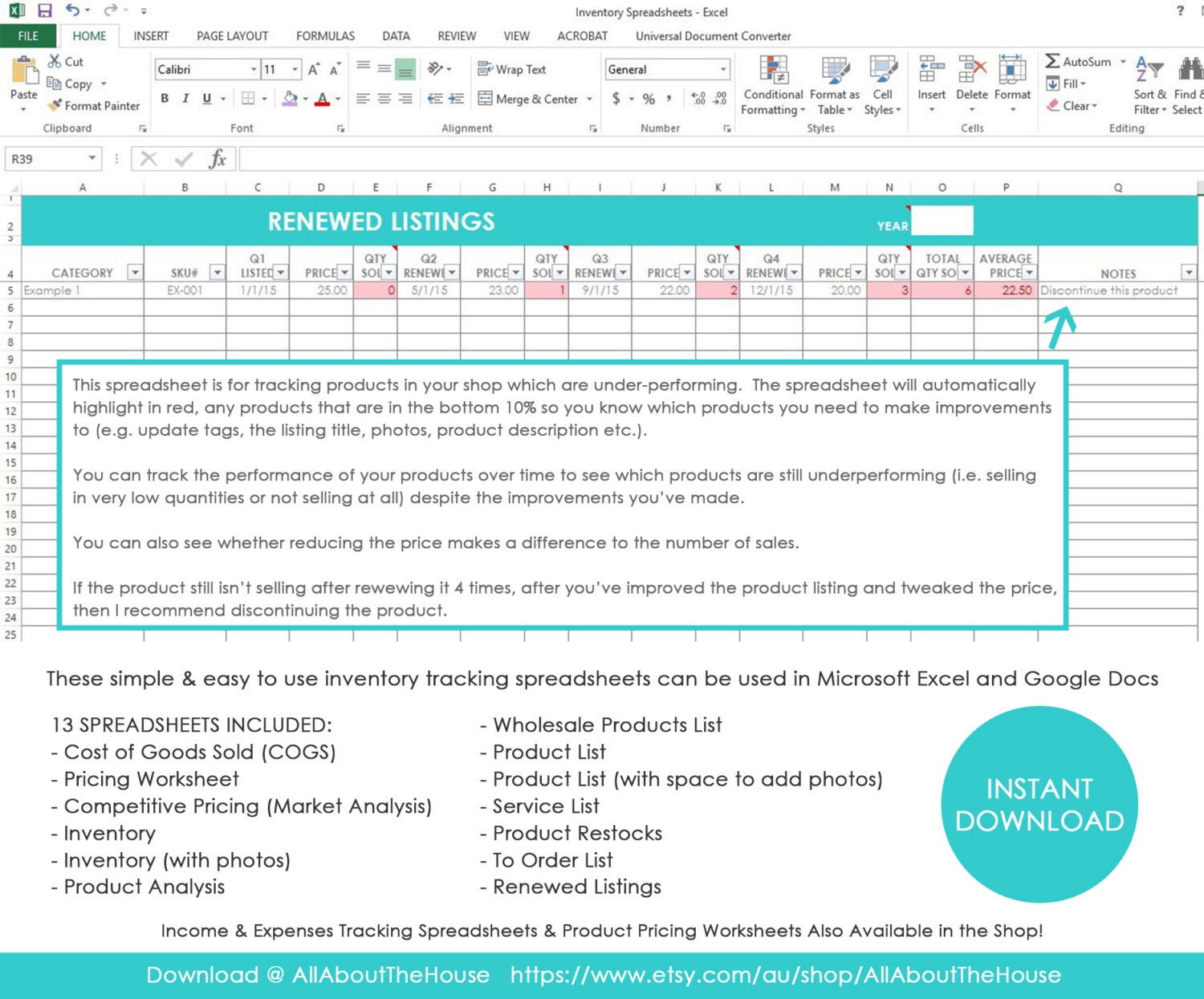 PRICING WORKSHEET (MARKET)
Use this to track how much your competitors charge for similar products. The spreadsheet will automatically calculate the average price. You can also use it to compare pricing for similar things you order from your wholesalers or suppliers.
I personally always go mid-range when it comes to pricing and try to never be the cheapest. With it comes the perception that your product is not as good as your competitors. They may think there is something wrong with your product for you to be charging a much lower price than everyone else.
I also have another pricing template you might be interested in here.
PRICING WORKSHEET (MULTIPLE PRODUCTS)
Keep pricing information for all of your products in one convenient place for quick reference. Using this helps you calculate what price to charge by building up a cost based on materials, labour, if there is a customisation fee (e.g. if the customer wanted a different colour), packaging, shipping, wholesale markup, retail markup etc.
So in summary…
There are 13 spreadsheets included:
– Cost of Goods Sold (COGS)
– Pricing Worksheet
– Competitive Pricing (Market Analysis)
– Inventory
– Inventory (with photos)
– Product Analysis
– Wholesale Products List
– Product List
– Product List (with space to add photos)
– Service List
– Product Restocks
– To Order List
– Renewed Listings
If you're interested in purchasing the spreadsheets, they're available via the online store or my Etsy shop.
IF YOU WANT TO UPGRADE, THESE SPREADSHEETS ARE PART OF THE FOLLOWING BUNDLES:
OTHER BUSINESS PRODUCTS FROM MY SHOP YOU MAY BE INTERESTED IN:
– Order form template in chevron pattern or polka dot
– Catalogue template
– Shop Inventory spreadsheets
– Pricing spreadsheet template to work out how much you should be charging
– How to write product descriptions mini ecourse 
– Blog planner
– Business planner (no chevrons) 
– Business planner (with chevrons) 
– Finance binder (no chevrons) 
– Budget binder EDITABLE 
– Get it all printable planners
– Tax planner (EDITABLE) 
– Direct Sales Planner (EDITABLE) 
– Work at home mama kit
– How to make labels in Photoshop ecourse (can be used to make product labels, address labels or any type of label for your business) 
I'll be posting about the spreadsheets I created and use to keep track of income and expenses soon! If you'd like to know when the post is published, click here subscribe to the blog and download a free sample of my ebook for Etsy sellers.