If you're using an expired planner or you like the layout of a planner but it's colors are a bit plain and boring. If you don't want to make your own, here are 10 brands that offer pre-made date dot stickers – ready for you to peel and stick!
The most common size (and my favorite size) seems to be about 0.25″ or approx. 6mm.
Related post: Planner Newbies: The 7 Planner Stickers you need to stock up on
If you follow my blog you've probably seen these stickers many times. They come in a good variety of colors, different sizes and styles (round, flags and the numbers by themselves).
If you can only afford to get one of the recommendations on this list, make it this sticker book!
Related post: 7 functional ways to use an expired planner
There's a version with just the numbers and no background too:
Read more: Bullet journaling with washi tape in the Scrivwell Dot Grid Notebook
The Carpe Diem numbers sticker book is available in my sister's store, Carefully Crafted.
I have the rainbow pack which has 12 different colors.
They also have metallic date dot stickers in rose gold, gold or silver.
Another metallic option but this time with metallic dates on a transparent background. is the Heidi Swapp stickers. There's another version with black stickers with transparent background.
I paired these stickers with some gold foil washi tape, alphabet gold foil stickers from Kmart and the Sharpie Permanent Marker (Gold Metallic) – which surprisingly didn't bleed through the page (just bad ghosting).
One more foil option is the Studio Calico gold foil stickers.
4. Happy Planner
I wish Happy Planner would do more functional sticker books. Some of the sticker books include date stickers but usually only 1 or 2 sheets.
These gold foil stickers are from the journaling sticker book. The Happy Planner dates and holidays sticker book has rainbow numbers and black numbers on a transparent background.
Read more: Gold themed weekly spread in the Erin Condren Focused Planner
They're undated refill packs come with some sheets of stickers (these came with the dashboard extension pack). If they would do sticker books with sheets like these in different colors I'd buy them in bulk!
5. Kmart
I'm not sure if these are still available as I found them quite some time ago but these are one of the few transparent round date stickers I've found (most are square). They were only $2 for 2 sheets (plus a sheet of days of the week and another sheet of monthly stickers). Bargain!
Read more: Weekly spread with DIY stickers using the Poooliprint inkless pocket printer
6. Reject Shop
The Reject Shop here in Australia can be a bit hit and miss but sometimes you can find a few planner things like the date dot stickers in the photo below (came in a pack with mint and pink stickers).
7. Simply Gilded
For some premium stickers, Simply Gilded has gold foil with a colored background.
Similar to the Happy Planner, sometimes their sticker books have a few sheets of date dot stickers.
9. Makse Life Planner
These stickers come in more muted rainbow colors with some small dot and flag stickers too.
10. Prima Planner
I'm not sure if these are still available as I found them years ago. Despite some misprints where the numbers are close to the edge of the stickers rather than in the middle, these stickers were great value with 8 sheets (each sheet had 3 month's worth).
To turn them into colored stickers I used a highlighter to color them in.
11. The Paper Studio Agenda 52
A recent find (for me), this brand has plenty of sticker books to choose from which are in a similar style to Happy Planner.
The Calendar foiled sticker pack has a few sheets of number stickers (circle and square).
Different colors
Most of the stickers on this list are black text with a white background which I actually prefer as you can add your own color using highlighters, or use a thicker marker pen to outline the date stickers.
However, sometimes I want a specific color and since I couldn't find the right rainbow colors, I made my own:
Learn how to make your own stickers in my ecourse: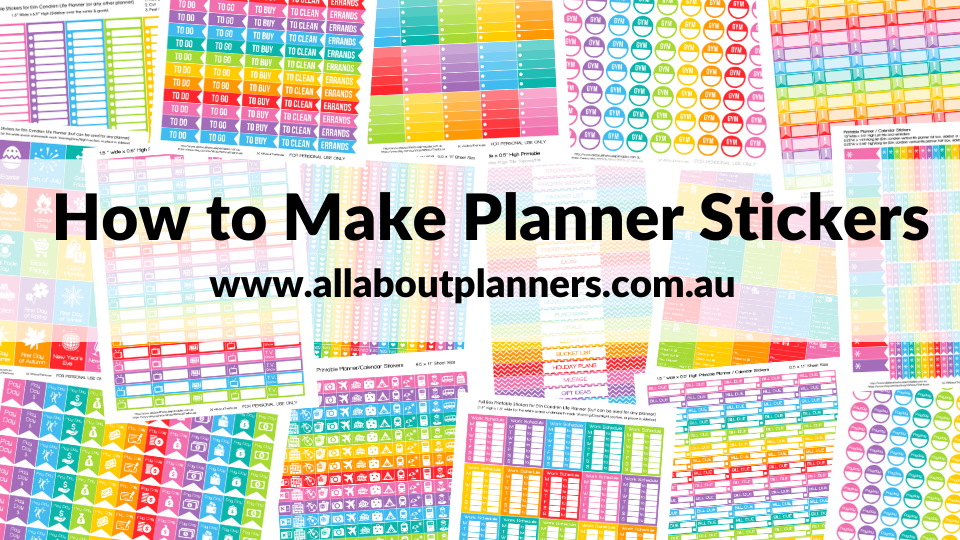 More planning tips
Found this post helpful? Pin it!