Highlighters with the usual chisel tip plus a thin tip (like a pen) on the other end are ideal for simple planner decorating and on the go planning. These are my favorite twin tip highlighters!
This post contains affiliate links.
Favorite Dual Tip Highlighters
This highlighter comes in a range of nice rainbow colors and is one of the cheapest to buy individually on this list. So if you're not sure if dual tip highlighters are for you, I'd start with this one.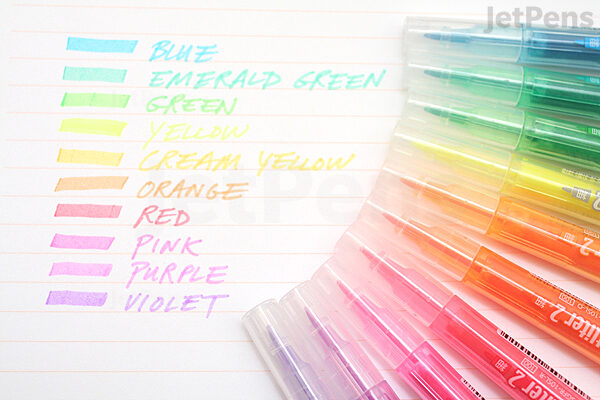 This highlighter is my favorite for ensuring you highlight in a straight line as it has a cover that goes over the chisel tip (which also prevents it from fraying).
There are various highlighters from Zebra but the Optex Care are my favorite. They stay straight when you highlight as the plastic part extends over the chisel tip (similar to the Tombow Kei Coat). They come in nice rainbow colors!
Amazon have a pack with different colors but if you're in Australia I've only ever seen this in retail stores sold individually. As such I only have the red one but the entire collection is on my wish list 🙂
Very similar to the Optex Care and other highlighters from Zebra, bright colors that are true to the color of the highlighter's lid.
These highlighters come in different colors from the usual including teal and red <3
I'm sure you've heard of the Mildliners before.
They're ok, but I don't get what all the fuss is about. There's plenty of cheaper alternatives that are just as good. The Mildiners are too pastel and the 'brights' are dull, yucky colors. If you're looking to color match closely, the Daiso soft marker would be my pick – a pack of 5 is about the same price as 1 Mildliner (doesn't come in dual tip though).
Chosch Light Double CS-8120
These highlighters look nice in the packaging but were a bit disappointing. Mainly due to the fact that the color of the pen lid does not reflect the color of the inks. The green is more of an olive and the colors are very feint.
Mitsubishi Uni Propus Window
This highlighter has a thing around the chisel tip that stops it from fraying. The 'soft colors' range is a nice in between – the colors aren't neon bright but aren't washed out pastel either.
Mitsubishi Propus 2
These highlight smoothly, the colors are vibrant and they come in colors that tend to be hard to find in highlighters: dark blue, red, brown and a red-purple color. If you're color coding lots of things, try these.
Related: Favorite color coding planner supplies for less than $5
Simbalion fluorescent marker
I found this one at Danda in Brisbane city. A random assorted 'junk' shop similar to Daiso. If you don't live in Brisbane, I wouldn't go out of your way to chase it down – it works great but there are plenty of other highlighters on this list that also work great and are more readily available.
Related: Favorite Places to Buy Planner Supplies in Australia 
Artline dual color
These highlighters are a little different to the rest of the list – it's 2 different colors in the 1 highlighter, not 2 different tip sizes of the same color.
Daiso scented twin tip
Good, cheap highlighter. If you are on a tight budget, this would be my pick.
Related: Minimalist 1 page categorised planning using black pen & highlighters
I don't recommend
Note Works Dual Tip Permanent Marker
This highlighter is from the Reject Shop in Australia – it always bleeds through the page, but it's cheap so is to be expected.
Iconic 2 way dual tip pastel highlighters
The fat / chisel end of this highlighter is thinner than the rest of this list and the thin end is about as thick as a fine tip pen i.e. very fine! The colors are very pastel though – too pastel for my liking. The chisel tip of this highlighter is the smallest on this list making these highlighters ideal for underlining rather than highlighting.
More stationery reviews:
Planning tips:
Planner reviews:
Found this post helpful? Pin it!