If you like doing ombre weekly spreads in your planner, are color coding a lot of things or just want plenty of options of different shades of colors to choose from, here are pens I use and recommend, that come in packs of 20 or more different colors!
This post contains affiliate links.
After resisting buying these pens for ages as I thought the 0.3mm would be too small, these have become one of my all time favorite pens!
They write smoothly, come in tons of colors, are tri grip and come with a sturdy storage case.
Related: Ultimate list of the best planner pen brands and how to choose colors for color coding 
Few ballpoint pens seem to come in large packs. One brand that does is the Zebra Sarasa Clip. Jet Pens have a pack with 28 colors. Do you need that many colors? Probably not, but if you like your pen color to match the colors of your planner your chances will be better with 5 shades, of pink, 6 shades of blue etc.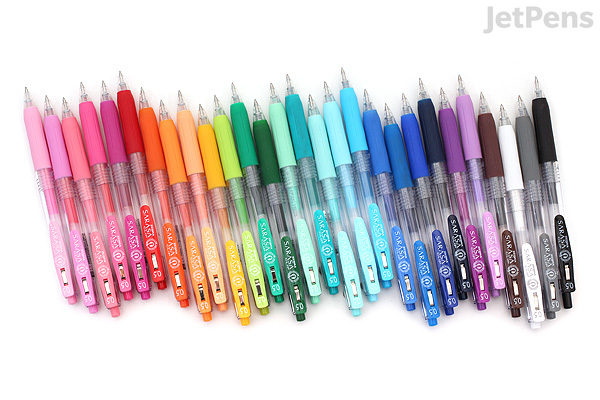 I have the 10 pack which has enough colors for me except a purple instead of the navy black would be ideal. You can actually see the yellow for this pen brand <3
Be careful when buying Papermate Flairs as the ultra fine, fine and medium tip all look similar.
There are a few ranges of the Paper Mate flair including rainbow, Candy Pop, Tropical etc.
Other pens from Papermate that I highly recommend are the Paper Mate Inkjoy 100 1.0M (ballpoint), the Paper Mate Inkjoy 100 RT 1.0M (ballpoint) retractable and the…
These pens are pricey but so worth it. I was stingy and got the 10 pack but wish I'd chosen the 14 pack instead. I use these pens (and the Frixion erasable) the most out of the hundreds of pens I have. The colors make a pretty rainbow, they write smoothly on any type of paper and are just the right size pen tip (0.7mm). They're also the closest color match I've found for my rainbow planners stickers!
I love these pens so much I got my sister to stock them in her planner supplies shop, Carefully Crafted.
I purchased the 10 pack to try them out but now wish I'd bought the 20 pack! These pens write so smoothly and the colors are true to the outside color of the pens.
If you're a fellow Aussie, I haven't been able to find these in a physical retail store, however, you can get them online.
I finally got a chance to try out these pens while I was in Switzerland!
Related: Favorite Switzerland stationery shops for planner addicts
These pens come in tons of different colors and styles: glitter, metallic, gel etc. they are quite pricey…
… But come in so many colors.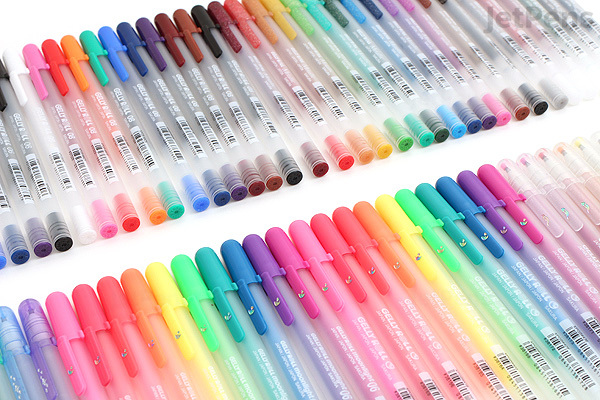 The Caliart pens write super smooth and come in plenty of colors including less common mint and brown.
These pens come in tons of colors. I managed some self control (for once!) and only chose 10 colors however there is a pack with 30 different colors!
They remind me of the Triplus Staedtler in terms of how they write. Even though they're 0.4mm which is usually too small for me, the tip writes more like a 0.7mm.
Stabilo also have a 2 in 1 dual tip style pen which has 10 colors… but if you count the thick and thin tips separately it equals 24 pens.
Related: Cheap versus expensive pens: is there actually a difference in quality? 
These pens come in pastel and brights. I'm not a fan of pastel so opted for the brights:
Related: How to choose the right planner pens: what to look for when buying planner pens
10. Cheap Shop Pens
Cheap shops tend to have big packs of pens, especially gel pens for less than $10. I've seen large pen packs at Target, the Reject Shop, Aldi & Stacks.
Tip: Amazon has a ton of pens that come in huge packs (I've seen packs of 100 on there!)
Another option if you want to carry less pens, is to use Dual Tip Pens such as:
Pure Color-F C-Land
Stabilo 2 in 1
Uni Pi's
More Pen Reviews
Planning Inspiration
Found this post helpful? Pin it!