Anyone else find they don't really use the notes pages between the months of their planner, or aren't sure what to do with them? I had this same problem so I made some planner stickers specifically designed for the monthly notes pages.
I ended up going a bit overboard (like I always do!) with 16 different types of stickers that can be mixed and matched (all one color, using 2 colors, a different color each month, a rainbow color scheme etc.)
I recorded a quick video to explain a bit more about how to use them. For a closer look at each design, keep scrolling!
Want more planner related videos? Subscribe to my YouTube channel!
So let's take a closer look at each of the stickers!
Each sticker comes in 3 different color variations: my signature rainbow stripe and then stickers in each of the rainbow colors (that match the rainbow stripe and the rest of the printable planner stickers in my Etsy shop), as well as black if you prefer a neutral/ink friendly color.
These are also great for tracking overtime, time spent working for various clients so you know how much to invoice, casual workers (e.g. students) or shift workers (e.g. nurses), how much time you spent on your blog etc.
These can be used for any type of list making such as:
Grocery shop
Wish list
Things to do today
Things to do this week
Chores
Homework for/study/assignments for each school or university subject
Blog post workflow e.g. write blog post, edit, photos etc.
Business related to do's
Tasks for each client if you run a consulting business
Recipes to try
Gift list
Books to read
Movies to watch
Etc.
The design with one color per sticker is great for color-coding your planner e.g. green for grocery shopping list, blue for chores etc.
If you want to use these for an entire month, you'll need 4 per notes page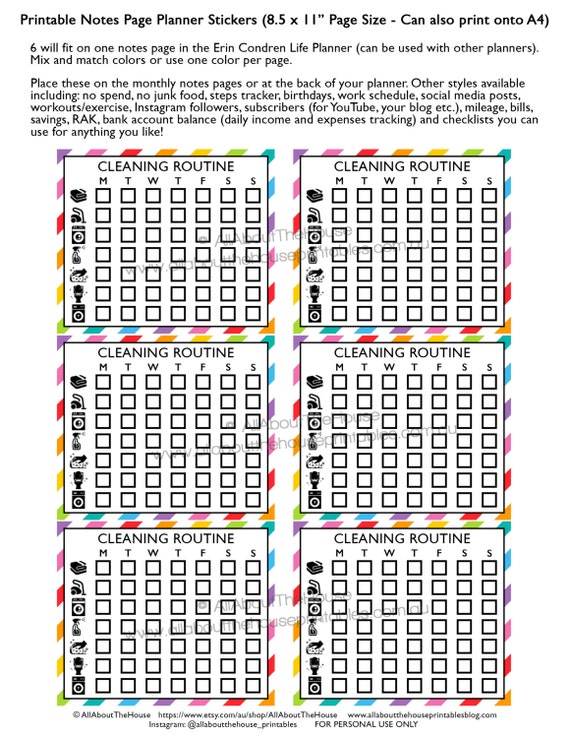 Related post: How to use the notes pages of your planner
These are perfect for business owners and direct sales consultants!
These can also be used for special events such as anniversaries, engagement parties, weddings etc.
If you want to grab a bargain, you can get a bundle with ALL of these notes page stickers for 70% OFF!
If you'd like a printed version of any of these planner stickers, please convo me via my Etsy shop, AllAboutTheHouse. They will eventually be added to my sister's Etsy shop CarefullyCraftedByJo where printed versions of my planner stickers are sold.
If you have any suggestions for more stickers like these that you'd like to see, just let me know in the comments below 🙂
Want to learn how to make your own planner stickers? Click here for step by step tutorials!