It doesn't matter how great your product is – if you're photos stuck no one is going to click through to your shop and buy from you. Photos are the first thing people see when browisng through Etsy – you've gotta make sure your photos stand out!
Common mistakes/turn-offs when it comes to product photos include:
Dark photos
'Busy' photos – that show too much stuff in the background that's unrelated to the product (no one needs to see your dirty laundry pile!)
Text that's too small to read
When you find an image on Pinterest, Google Images etc. and you want to know where you can buy it but there's no shop name, blog address etc. on the photo – you're literally turning customers away when you do this!
You include items in the photo that aren't included/aren't for sale. For example, you sell a notebook and you have coordinating notepad in the photo which is also available in your shop but you don't specify this in the product description so people think they are purchasing a notebook and a notepad
You don't show people how to use it e.g. you don't show the shirt on a real person or a mannequin
You take photos of dark items on a dark background and white items on a white background – everything blends!
You don't state the size on the photos
How to improve your product photos
1. Show everything that's included in the ONE photo
'If they can't see the product, they can't buy it'
Which of the photos below stands out to you more? Which photo is going to make you click on the listing?
I've analysed the statistics for both of these listings from my shop – can you guess which listing performs better?
A sample/close up view of the planner:
.. Or the entire planner
The second photo right? The one that shows all the printables in the ONE photo. Even though I have the number of pages included shown more prominently in the first photo, the second photo shows all of the included pages. People think 'Oooo that looks good' or 'Oooo that's a lot of pages for that price – that's good value' etc. and then they click through to the listing.
2. Make your photos look different to everyone else's
In a saturated market it's important to make sure your photos stand out, and that people can distinguish you from the competition. Your photos and products have to be memorable. I use a black background for all of my product photos (except my planner stickers). I use the same fonts – everything stands out and when people are scrolling through the Etsy search results, Pinterest, Google Images etc. – it's super easy to identify which products are from my shop. It probably also helps that I use the same chevron pattern for all my planner sets, so my products are easily identifiable as well. I'm probably known as 'that chevron planner printables lady' on Etsy but hey, I'm cool with that :p
Example product photo from my shop:
Black background
Same fonts
Shows all of the printables included in the set in the one photo
Tells you how many pages are included in the set (100 pages)
Tells you it's an instant download (i.e. printable file) – it also says printable on the product photo
Highlights the features – editable planner

If you're interested in the craft show planner – I shared more about it in this post.
3. Use a white background & Edit Photos
Yes you need to use a white background even if the product is white. Once my sister starting creating a white background for her photos, her shop started to look more professional and her sales increased.
To create a white background you have 2 options:
Create a light box
Edit the photo digitally to create a white background
Method 1: Create a light box
This is the lightbox setup my sister uses to take photos for her Etsy shop, CarefullyCraftedbyJo – it's nothing fancy!
To make a lightbox you'll need:
A cardboard box (we chose a medium size box – make sure it's sturdy/good quality – moving/packing boxes work well)
White plastic 'tablecloth' (we bought ours from a discount store for a couple of dollars) or see through material such as tissue paper (or even just a piece of A3 paper
Clear masking/packing tape
3 bright white light bulbs (make sure you get 'cool white' not 'warm white' – warm white bulbs have a nasty yellow-ish tinge – make sure you get the brightest wattage available and try and buy 3 lightbulbs that are the exact same so the white on your photos is even
2 Desk lamps
A freestanding lamp (one that stands on the floor)
White posterboard
To make the lightbox:
Cut out 3 sides of a box – leaving some edges for sturdiness (we left about a 1 inch border)
Place white tissue paper or similar over the cut outs and use clear masking tape to adhere (normal sticky tape probably won't be strong enough)
Cut the white posterboard to size – it only needs to fit the width of the box and part of the back of the box
My sister uses a floor lamp with the bulb pointing downwards through the top of the box, as well as two desk lamps (one on either side of the light box). You may need to prop the light box or desk lamps up a few inches on books or boxes, depending on the size of the box you've chosen, and the type of products you're taking photos of. When placing the lights make sure they're a few centimetres (or about an inch) away from the sides. If you do learn then up against the side, make sure you don't leave them there for a couple of hours as it could catch alight – safety first!
The photo above shows the surroundings looking to be quite dark, even though the room is not dark at all. This photo was taken at midday when lighting is at it's best and the lightbox is set up in the brightest part of the apartment – in front of sliding doors leading to the balcony. And that's the problem with taking photos – they end up looking darker than they look in real life. But before you write off this method completely, let me show you an example of the lightbox in use (with the 2 side lights and the top light on):
Again the photo above looks dark, but when we actually take a photo of the product, this is how it turns out…
Much brighter!
And then you can improve the photo quality even more by editing to enhance the colors and make them POP (more on that below).
You might be wondering why don't we just take photos on a white table without a lightbox? Here's what that photo would look like…
The table we have is more of a cream color and the colors of the stickers just don't POP as much as the photo taken in the lightbox using the white lights. When you don't use a lightbox you're also more likely to get shadows on one side of the photo whereas both lights on either side of the lightbox keep the light consistent.
Sidenote: if you like these cute 'yay it's payday!' stickers, they're available here. Printable available here and here.
Try and only take photos during the day
It seems obvious but the yellowish tinge in your photos or them being too dark is because they're taken at night. Establish a routine where you take photos on the weekend in daylight (if you also work full time). I know you may be super keen to get a product listed in your shop, but trust me, it's better to hold off until the weather is good to take that photo. If you post a photo that looks crap then you're probably going to lose the sale for an otherwise good product. You only get one first impression.
Method 2: Edit photos on your computer
If you're in a rush DON'T post the product for sale without editing it first
A first impression leaves a lasting impression
If you take your own photo and aren't sure how to remove the white background, I recommend this tutorial from Prep in Your Step (Photoshop not required!)
My sister used to use Prep in Your Steps' method to edit her photos – but it's takes a longgg time. Sometimes the photos wouldn't work out that great with parts of the shadow still in the picture, or jagged edges around the product. It's harder to get a consistent 'look' and the white background removal may work better for some pictures than others.
Example of a photo from my sister's shop, Carefully Crafted By Jo that's been edited to have a white background:
You can also use a site such as Fotofuze
If you're not good with photo editing and don't want to make a light box (although I highly recommend you do!) another option is to purchase 2 pieces of white poster paper or even better (as it's more sturdy), foam board. Use one to place the item on and lean one up against a wall to create a white background behind your product.
There are numerous apps you can use to edit photos with your iphone (both free and paid) such as Snapseed. We use an iPhone for all our product photos.
Batch take your photos
Sunday in our apartment is photo day – this is the day that my sister takes all of the photos of our planner stickers and the other products she sells in her shop such as washi tape. By batch taking photos we only need to set up the light box once. Tips:
Keep a list of all the photos that need to be taken so you don't forget any and have to come back and set everything up again. If you need a checklist, you might like this one
Take a photo, check the photo then either keep or delete. Do NOT take 50 photos of the same thing – it will take foreverrrr to sift through all of those photos and choose the best one.
Look at photos on a big screen (not your iPhone) as the photo may look ok on your iPhone but actually end up looking not that great on a computer screen
Once you choose a photo, edit the photo (see below for more on this). We use our iPhones to take photos and just use apps to edit them. Make sure you always choose a filter that retains the true colors of the product – you want the filter/app to ENHANCE the photo, not change what the product looks like
4. Make sure you include your shop name and/or logo and shop URL on EVERY product photo
To do this, you'll need to use a graphic design program. I recommend
• Canva (free)
• Picmonkey (free)
• Photoshop (paid) 
I place my shop name and URL at the bottom of the photo so that it's not in the way and glaringly obvious – but the information is there when people are wondering where they can find out more about the product or where they can purchase it from.
An example of this is the Direct Sales Planner product image:
5. Create a 'Scene'
Show the product in use.
When we were deciding on a 'scene' for our planner stickers we tried heaps of different combinations including:
Displaying the product digitally on a wood background
Displaying the product digitally on a white background
Displaying the product digitally on a black background
Displaying the product digitally on a styled stock photo background
Taking a picture of the product on a plain white background
Taking a picture of the product on a confetti dot background
Taking a picture of the product on a planner (i.e. in use)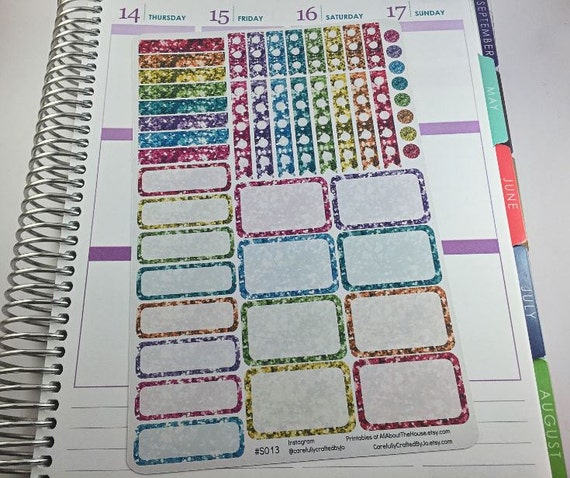 So obvious which one we should have just started with in the beginning – the stickers on a planner! Don't overthink it!
Some people may disagree with me on this one, but I personally think if you're selling physical (not digital products) that your photos should be of the real-life product – not a digital version. Perhaps because I'm asked all the time if my digital products are printed – I feel a physical photo shows a truer representation of the product – of exactly what they'll receive in the mail.
Show the product at multiple angles
Because customers can't touch and feel it for themselves, you need to show the product from multiple angles. Some angles:
Show a photo of the front of the product
The back
The sides
A close up
Long shot
Overshot (taken directly above the product)
Should you use stock photos?
Stock photos can certainly make your photos (and your shop in general) look more professional – but the problem is that everyone tends to use the same style of stock photos. If you want to stand out you need to do something different. Try:
A different colored background
Showing them from a different angle
Always placing your photos on the left or the right side of the image
Being consistent with your photos helps with brand recognition – you want people to see your picture when they're scrolling through Pinterest, on Etsy, Google Images etc. and instantly KNOW that the product is from your shop (or from your blog if you're a blogger using stock photos).
If you're not sure how to use stock photos or mockups, see this post for a video tutorial (also includes free printable wall art): How to use mockups in Phothoshop (using smart objects and styled stock photos)
6. Show samples
Use the most popular combinations in the photos. By this I mean, if you see personalised products, use popular names. That's why my personalised items such as binder covers use names such as Emily, Sarah and Jen as these are popular girls names. You also want to choose popular color combinations. I wouldn't recommend using colors like green and orange as these aren't popular, instead try pink and aqua, green and pink, green and blue, blue and purple etc. if you're not sure about color combinations – see this post My 5 Favourite Color Tools for Graphic Design
From my own experience, 9/10 people will want the combination shown in the sample photos.
Related post: How to make business cards for free (including step by step video tutorial)
7. Include crucial information in the photos NOT the listing description
This is why I add 'Instant download' to my planner set photos or 'PDF file' so they know it's a digital product avoids time wasted answering the same questions over and over again. I take it as a good sign when I don't receive any customer emails in a day, as that means people can find answers to their questions without having to ask me. I used to get asked the same questions again and again, now because I include answers to FAQ's on the photos (and also in the listing description)  nowadays I only get emails when people want custom orders. My shop is much more 'passive' income now, so I can focus on creating new products instead of spending a lot of time answering emails.
 8. SHOW don't tell people how to use your product
You need to SHOW not tell people using photos. So if you sell clothing, show this on a model (a real life model is preferable, but a mannequin would also work). Then go a step further:
Show how to use the product i.e. what do you recommend wearing it with? Denim?
Does it pair well with certain colors?
What accessories work well with the clothing e.g. jewellery?
What season of the year would you wear it?
Where would you wear it – to a formal event, a birthday party?
The more information you can visually show, and the more options/ways of using your product you can provide potential customers with, the more likely they are to become a paying customer. Make sure to suggest not just how YOU use the product, but other ways people have used your product.
If no one knows how your product works, no one is going to buy it.
9. If you sell on Etsy, use all 5 Photos
I see so many Etsy sellers failing to do this (I'll admit I'm guilty of it sometimes) You get 5 photos makes sure each of your listings has 5 photos!
Using surplus photos
If you don't need all 5 photos for a product, use the remaining to share something:
About your shop
How your products work (and how the product the listing is for works)
If you sell digital products, what happens after a customer places an order
Shipping & processing times
Whether custom orders or design changes are welcome
A color chart of the options
Related products/complementary products
The same product in different styles that are also available
I'll be doing a post in the future expanding on this, and showing how to create images such as the one below which I now add to all of my planner sticker listings:
Related post: How I make my blog graphics (and optomise them for Pinterest)
10. Use the right photo size
Etsy tells you what size photos are optimal when you edit a product listing – make sure you take this sizing into consideration when cropping etc. – it's better to leave your photos 'too large' then zoom in on the first one (click 'adjust thumbnail'), and remember people can click to enlarge them as well. You can always crop it after uploading if need be – but I don't recommend doing it before.
If you're interested in this planner insert, it's available in my shop.
 So in summary, 10 ways to improve your product photos:
Make sure you pin this infographic to Pinterest so you can refer back to it later!
If you want more help growing your online business, download a free sample of my ebook: 54 Mistakes Etsy Seller Make (and How to Fix Them)  – many of these mistakes also extend to online business in general.