I use Photoshop every single day!
Just a few of the things I use Photoshop to create:
Party printables (look out for my new ecourse: How to Make Party Printables in Photoshop and Monetize Your Designs which I'll be launching at the end of this month!)
Etc.!
If you're interested in learning how to use Photoshop, check out the FREE graphic design tutorials library or any of the video tutorials in the blog posts below:
Adobe only offers Photoshop via subscription (but they give you a discount if you pay a year's subscription up front).
If you don't have Photoshop installed on your computer (or laptop!) already, you can download/ sign up for by clicking the image above (my affiliate link) ? Choose the 'Photography Plan' (it includes Photoshop Creative Cloud)
Photoshop Creative Cloud/Photoshop CC (this is a newer version of Photoshop – I use Photoshop version CS6 – but the tools I show you how to use in Photoshop in my video tutorials are the same in Creative Cloud)
Choose the Photography plan (it includes Photoshop CC)
Select the frequency you want to pay (monthly or annual plan, paid upfront)
Then click the 'buy now' button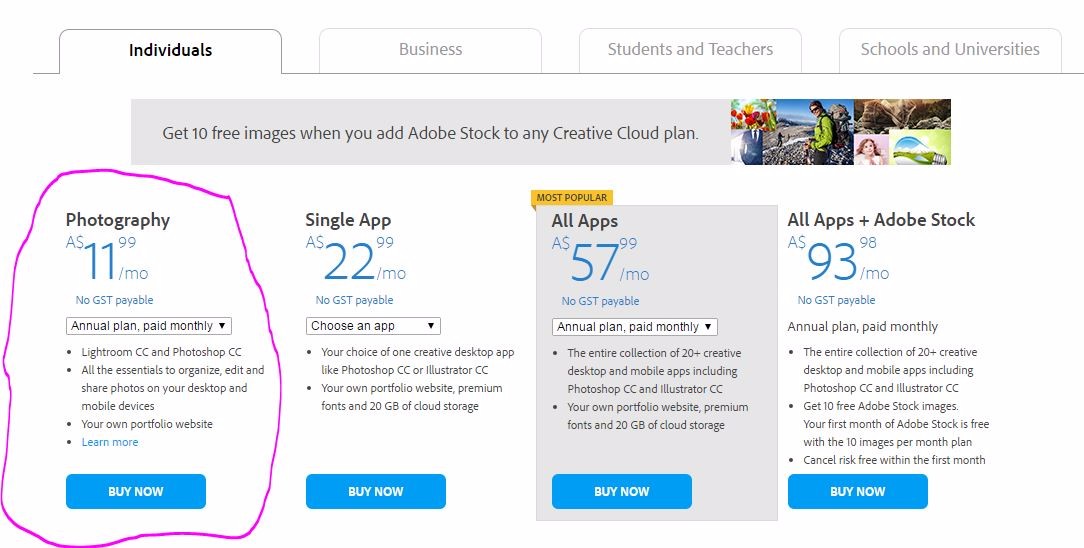 The above links are my affiliate links. When you purchase through my link I receive a small commission for referring you (at no extra cost to you!) – thank you for supporting my business 🙂
Some of my ecourses where I teach how to use Photoshop: