Black Friday is fast approaching and you know what that means? It's sale time! 🙂 If you haven't yet thought about what discount to offer or the logistics of running the sale on your Etsy shop, this post will help you choose what discount to offer and I'll show you step-by-step how to set up the sale for your shop in just a few minutes. First things first:
WHAT DAYS WILL YOU RUN THE DISCOUNT?
At a minimum, I recommend having a Black Friday sale as people will expect it. It's Black Friday – everyone has a sale on Black Friday! A few things to consider:
How far ahead have you planned for the sale?
How much inventory do you have? If you don't have a lot of inventory, then offering a huge discount will result in a lot of sales, but you could sell out. You don't want to offer such a huge discount that you sell out on Black Friday and have nothing left in stock for Cyber Monday – you want to make sure you sell a lot but for the right price
In addition to Black Friday, do you want to run a sale on small business Saturday and cyber Monday? If so, make sure you have enough stock and staff to process the orders. Getting a lot of orders is great, but if it's going to take you forever to ship items because you're under-staffed you're going to leave customers with a negative experience and they may not come back and shop with you again.
HOW MUCH OF A DISCOUNT WILL YOU OFFER?
I don't recommend offering anything higher than 20-30% off for any sale event unless it's Black Friday. Black Friday is the biggest shopping day of the year and as such, everyone is competing for sales. If you only offer 10% off or an amount that's really low, people are going to think you're stingy and will probably go shop at your competitors that are offering a greater discount.
For Black Friday/Cyber Monday, consider offering a tiered discount. E.g. 50% off on Black Friday, 20% off on Small Business Saturday and Sunday,  then 40% off on Cyber Monday. This way, you can use Saturday and Sunday (when sales will be lower due to the lower discount) to process orders from Friday. It also keeps people interested and they're more likely to come back to your shop on Cyber Monday if you tell them there's another big sale day coming.
If you're really unsure which days to have a sale I recommend Black Friday and Cyber Monday. From my own experience those days tend to result in more revenue than Small Business Saturday and the Sunday before Cyber Monday.
Another strategy is to have a sale that lasts a couple of days (up to 5 days to 1 week) and offer a a gradually reducing discount each day. So if you were going to have a 5 day sale event, the first day of the sale you might offer 50% off, the next day you offer 40% off etc.
Or you could run a 5 day sale event and do a discount off a different product category in your shop each day – the curiosity factor and not knowing what'll be on sale the next day keeps customers coming back. This is a great strategy for digital product sellers but if you're a physical product seller, customers may want combined shipping if they place an order each day, so make sure you're upfront about whether you will or won't do combined shipping.
From my own experience, there are 3 ingredients to closing a sale:
Urgency – your sale should have a time limit
A decent enough discount that the customer is going to regret letting it slip away (even it they were on a no spend this month!)
And then an even better deal if they spend just a little bit extra (see below for more about the need to offer multiple price points)
WHAT PRODUCTS ARE YOU GOING TO DISCOUNT?
At a minimum, I recommend placing your best-sellers on sale, as well as products that are slow moving stock or more expensive/harder to sell.
During your Black Friday sale you can expect some of your regular customers to place an order. Take a look at what products those customers tend to purchase and make sure you have a large quantity of those in stock.
I tend to do storewide sales mainly for the convenience – it's super easy to set up a sale using the Etsy on Sale Tool – more on how to do that plus a video tutorial on how I use it later in this post. Doing a storewide sale also avoids you receiving a ton questions from customers asking if this product and that product is on sale. If you don't have a storewide sale, you will get asked questions like 'if that's on sale then why isn't this?' and you may end up frustrating your customers.
Make sure you have more of your bestselling items in stock. If I sold physical products in my shop, this is the ratio I would use:
80% bestselling products
20% other products that sell reasonably well
And don't waste your time making products that rarely sell!
And then within each of those 2 segments (best-sellers and those that sell reasonable well) you want to maintain a balance of different price points:
50% low price products
30% medium price point products
20% high price point products
By offering different price points, you'll appeal to more customers and are more likely to make more sales as you'll have products that suit everyone's budget. I try and stick with the above ratios year-round in my Etsy shop. The reason being:
People love low price products and tend to buy a bunch of them together because they're so cheap = higher order value = more revenue. They're great shopping cart stuffers.
Medium priced products work as great upsells to low price products. Combining multiple low price products together in bundles as been one of my most successful marketing strategies for my online business. With the holiday season fast approaching, you could also do gift packs for specific customer types e.g. gifts for boys under 5, gifts for college students etc. – make sure you're specific about who the bundle is for, do not just do 'gifts for her'. You want customers to feel like that gift pack was made exactly for them or the person they're buying it for. A catalogue is a great way to present your products for sale. I've previously shared a tutorial on how to make a catalogue.
You need high priced products for your super fans. You will get those people that place a big order in your shop (those customers that make you do a happy dance 🙂 ) Within this price bracket you'll probably have also have low, medium and price points. For me, the low end of this price range is the Direct Sales Business Bundle, then the mid-price range is the Get It All printable planners bundle and the high end of the high priced product range is the Ultimate Etsypreneur bundle.
It will obvious depend on what price you sell your products for, but I tend to stick to these price brackets:
Low price products = less than $20
Medium priced products = $20 – $50
High priced products = $50+
As for offering tiered discount coupons for different prices, I offer this standard in my second Etsy shop, PaperCravings (see example image below which I include in every listing and in the listing description) and to be honest, I haven't seen much success with that discounting method. And I know when I'm shopping, I much prefer if it's just a discount with a minimum spend e.g. $10 rather than, spend $50 and get 20% off, spend $100 and get 30% etc. anyone else feel that way? Tiered discount coupons are a great way to clear out older stock and customers are more likely to add those products to their cart if they need to reach a minimum spend value, but from my own experience, not many customers actually use them.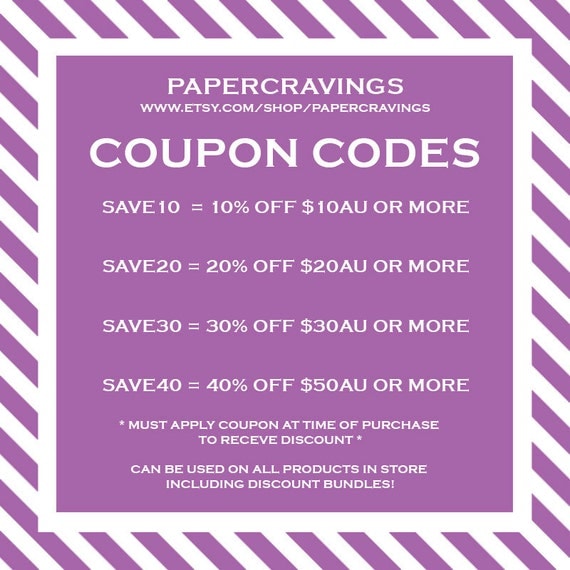 HOW LONG IS THE SALE GOING TO LAST?
I recommend having a sale that lasts no more than 48 hours. The reason for this is that you want to give your customers a sense of urgency to buy from you. That the offer is not going to be around for long so they better place their order NOW so they don't miss out.
Should you ever extend your sale?
This is a bit of a, in my opinion, desperate marketing tactic. The old, 'hurry! sale is ending in 24 hours' and then in 24 hours I'll get another email saying oh, actually, the sale is extended for another 24 hours. To me that just screams 'I'm desperate, please buy something from my shop!'
I would only ever extend a sale if I received numerous emails from customers upset that they missed the sale (by numerous I mean 30+ emails from customers not just 1 or 2). The reason I don't recommend extending sales is similar to what I mentioned above, you don't want people to expect a sale all the time. They lose their sense of urgency to buy from you because they know they still have more time. And when people don't have a sense of urgency, they'll likely forget about the sale or push it to the bottom of the to do list and not end up placing an order.
Plus, when you extend a sale, you give them the mindset that when you have your next sale that'll you'll also extend that sale as well so they have even less of an urgency to buy from you. If you do use the 'sale extended' strategy make sure you don't over-use it.
WHAT IS YOUR MARKETING PLAN?
How to promote your sale:
Regardless of whether it's a Black Friday sales, after Christmas sale etc. every time you have a sale you should post it:
In your shop announcement
Update your shop banner. I previously shared a tutorial on how to effectively use and make an Etsy shop banner (step by step video tutorial) 
In your product listings (the Etsy on sale tool – more on that below – can do this for you)
To your email list (an email a few days before the sale, the day of the sale/when it has started, a reminder that the sale is ending soon)
Facebook page
Relevant facebook groups
In the weeks leading up to your sale event, order business cards that have 'sale event coming soon: __ date to ___ date' on the back as a 'sneak peak' to encourage return customers. I previously shared a tutorial on how to make business cards for free
'Acquiring a new customer is anywhere from five to 25 times more expensive than retaining an existing one'
– Harvard Business Review
People are busy. They WILL forget about you. You need to market your sale in multiple places, even if you feel a 'little pushy' and 'too salesy'. Remember that not everyone that visits your Etsy shop or online store also follows you on Instagram, and subscribes to your blog, and is a Facebook fan etc. And if they DO follow you on all of those social media channels then they're what I call a 'superfan' – typically these people can't get enough of you and will appreciate the numerous reminders!
Related: Simple spreadsheets to keep track of income and expenses for tax time
Create gift cards themed for the occasion
I shared a tutorial on how to create gift cards for free using Canva on my YouTube channel (see below). My preference for anything graphic design is Photoshop, but if you don't have Photoshop, Canva is an ok tool for making one-off designs.
To enlarge the screen of the video below, click the square icon in the bottom right hand corner of the video (it will say 'full screen' when you hover your mouse over the icon). If you miss a step or need to re-watch you can pause, restart, rewind and rewatch the recording as many times as you need!
HOW ARE YOU GOING TO SET UP THE DISCOUNT?
If you're a fellow Etsy seller, I use and recommend the Etsy on Sale tool. With this tool you can:
Set up a storewide sale
Set up a discount for all or only selected shop categories
Offer a dollar amount off or a percentage discount
To enlarge the screen of the video below, click the square icon in the bottom right hand corner of the video (it will say 'full screen' when you hover your mouse over the icon). If you miss a step or need to re-watch you can pause, restart, rewind and rewatch the recording as many times as you need!
If you want to organize all of the tasks involved in running a sales event, I use this workflow template I created and which is available in my printables Etsy shop, AllAboutTheHouse. You might also be interested in the Ultimate Etsyprener bundle and the Etsy business planner (which can also be used if you don't sell exclusively on Etsy but also on other avenues).
Just a heads up! The Etsy on Sale apps takes your products and automatically discounts them based on the discount you chose so make sure your products are at their regular price before the sale.
The Etsy on Sale tool works using a credit system. You purchase credits then 'cash them in' when you run a sale. You can run multiple sales at the same time. So if you wanted to set up a discount on one store section but offer another store section at 30% off, you would need to set up 2 sales events and thus, you'll need twice as many credits. To run a sale costs at most, $5, and if you purchase the most credits at once/the best value deal, it'll only cost you $2.
The app also offers the ability to bulk edit the tags of your listings.
Want to try the Etsy on sale app? Enter the code EIOTWPGZXL to recieve 5 credits for free!
One thing to note: if you have a lot of listings in your Etsy shop like I do, it could take an hour for the discount to show as the app needs to work through all of those listings. I typically set the sale up to start midnight (American time). Note that the app defaults to USA time but you can change this in the settings menu.
Saves a ton of time! If you were to manually sit there and change the price of every single one of your listings (or even more than a handful) it would be a massive waste of time (and super boring!)
The tool shows customers what the original price was before the discount so customers can see what great value they're getting. If you manually changed the price, customers would probably think that was the everyday price, then wonder why your prices suddenly increased
You can set your entire shop on sale or only certain categories. This is ideal if you wanted to do a 12 days of Christmas type sale. You could offer a discount on different shop sections for each day and end the sale with the same discount across all of your categories
You can exclude certain listings from the sale. When I have run a sale I typically exclude the Get It All printable planners bundle and the Etsypreneur bundle as these are already heavily discounted (70 – 80% off)
While I do recommend posting a coupon code/sale announcement in the announcement section of your shop, not everyone goes to the homepage of your shop to see it. Some people simply land on your product page, click add to cart and checkout so they won't see a coupon code if you post it there
When people are browsing on Etsy they look at a few things 1) the photo 2) the price – by using the Etsy on Sale App it adjusts the price to the sale price, so people see the reduced price. If you were to offer a coupon, they would see the regular price not the discounted priced and as such, may rule out your product completely if it doesn't fit their price range (even though the product IS on sale when they use your coupon code)
If customers are aware you're offering by a coupon code I can guarantee during the sale period, that you'll get at least one customer emailing you asking why the price wasn't reduced or saying 'oops, I forgot to apply the discount coupon'. By automatically discounting your products it makes it easy for customers to buy from you – if customers feel like it takes a long time to buy from you and that it's a 'chore' they're probably not going to come back for more
You can connect multiple Etsy shops using the same account. I have 2 Etsy shops: my printables shop, AllAboutTheHouse and my graphic design resources shop: PaperCravings. I can quickly and easily set up a discount for each of my shops using the one account
If you add new products during the sale, you can check a box when setting up the sale so that it automatically discounts those newly listed items
You can choose what text to place at the start of the listing title and what text you want to automatically appear in the first line of the listing description
Want to try the Etsy on sale app? Enter the code EIOTWPGZXL to recieve 5 credits for free!
The reason I'm happy to pay the cost of the Etsy on Sale App:
Saves me so much time. One of the first rules of business: understanding opportunity cost i.e. when you spend time on one thing you can't spend that time on something else. So if you were to sit there manually adjusting the price of all of your listings, that's time you can't spend creating new products or doing marketing – activities that could result in an increase in revenue. So not only would it cost you time to manually set up the sale, but it's also going to cost you money in revenue foregone.
It's super cheap. A couple of dollars and 5 minutes of my time to set up a sale that will generate $$$ – it's a no brainer! You'll probably only need to sell one product during your sale to earn back the cost.
The cost is a tax deductible marketing expense.
Related: how to set up a tax binder 
Some other ways you could use the Etsy on Sale App to run a sale:
If you're hosting a pre-sale. For example, discounting a product for one hour between 2pm and 3pm
Doing a flash sale
Test different price points. When you're setting up a sale that's going to run for multiple days, if you're unsure what discount to offer you could choose a discount for the first day, see how that goes, then choose what discount to offer for the second day of the sale. This is ideal for Black Friday weekend sales which include Black Friday, Small Business Saturday and Cyber Monday
Want to try the Etsy on sale app? Enter the code EIOTWPGZXL to recieve 5 credits for free!
A word of warning about offering discounts
Don't offer them too often – you don't want to 'train' your customers to expect to only buy from you when you're having a sale.
So what will I be doing for Black Friday? You'll have to subscribe to the blog to be the first to know when the sale goes live! I'll also announce it on Instagram so be sure to follow me if you aren't already 🙂
Liked this post? Pin it to refer back to later:
Disclaimer: if you do use the app using the links in this post, you'll receive 5 credits for free and I'll also receive 5 credits for referring you – it's a win-win 🙂