If you haven't heard of Ultimate Bundles before you've been missing out! These bundles are a collection of top quality products from popular bloggers and designers and each one has a theme. The current bundle (on sale from January 25th until January 30th @ 11:59 p.m. EST) has the theme: Conquer your Clutter.
This bundle is jam packed with 38 printable products:
Cleaning
Decluttering,
Family organization
Time management
Managing paperwork & digital files
And my favorite part: printable planners!
The retail value of this bundle is $658 but you get everything for just $29.97! (95% off!)
I contributed 48 printable planner sticker sheets to the bundle and if you purchase through my affiliate link, you'll also receive 8 bonus rainbow editable (meaning you can add your own text before printing) binder covers! Just send me an email via [email protected] with your order number and I'll email them to you 🙂
Get these binder covers for free when you purchase the bundle via my affiliate link!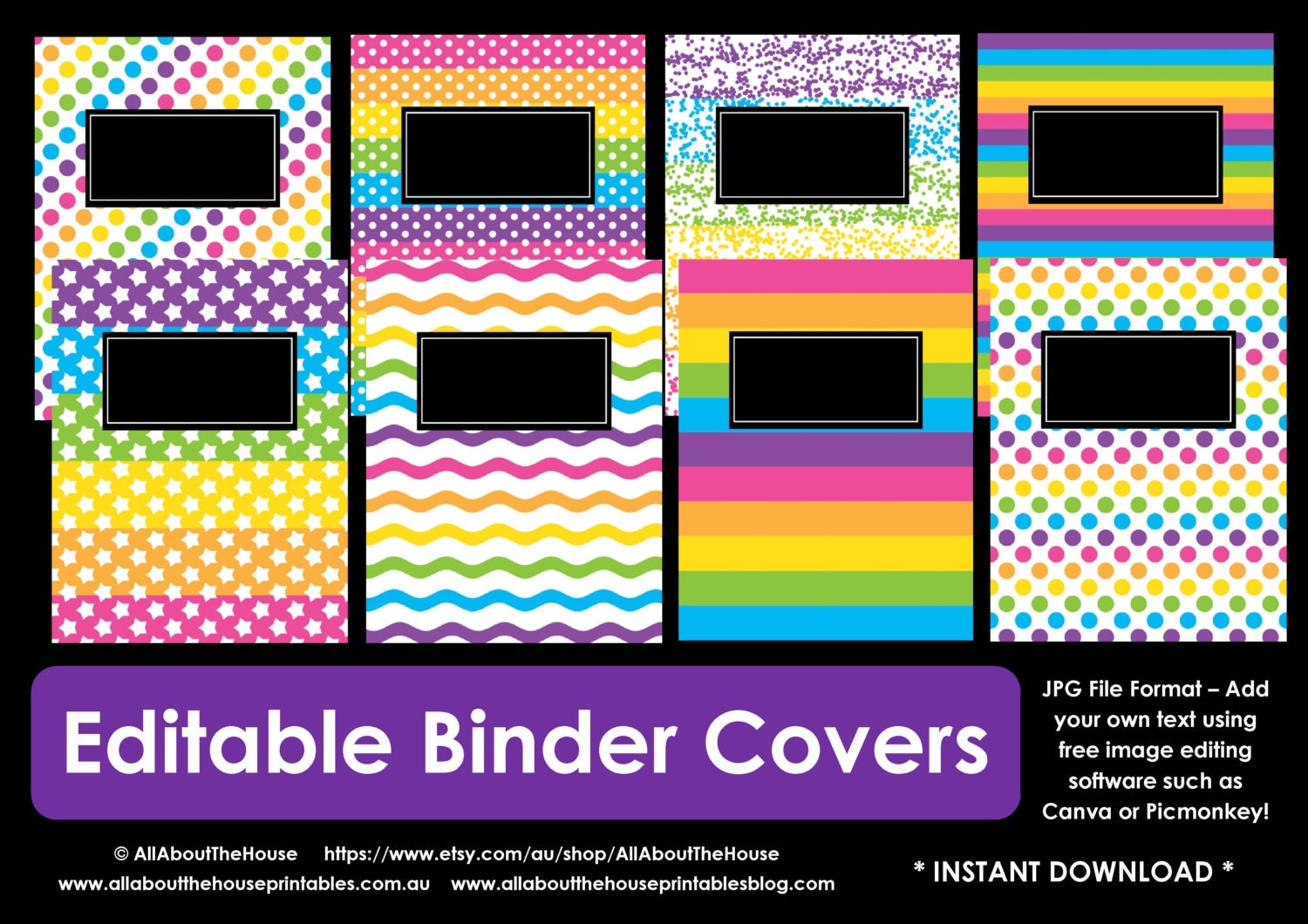 So let's take a closer look at everything that's included in the bundle!
Planners
2017 All Inclusive Binder by Mique Provost ($19.99)
2017 Christmas Planner by Mandi Ehman ($4.00)
2017 Homestead Management Printables by Quinn Veon ($8.99)
2017 Thanksgiving Planner by Mandi Ehman ($3.00)
Homekeeping Foundations Kit: The Perfect DIY Homekeeping Binder Kit by Clean Mama ($20.00)
Homeschool Mom Life Binder by Heather Bowen ($19.99)
How To Create Your Own Printables by Laura Smith ($49.00)
Printable Planner Stickers by AllAboutTheHouse ($28.46) – I contributed 48 printable planner stickers to the bundle – the cost of purchasing the stickers alone is more than the cost of the entire bundle!
The Home Management Binder & Family Planner by Helena Alkhas ($47.00)
Wanderlist: Your Travel Planning Toolkit by Kimberly Tate ($12.99)
Organizing Paperwork & Digital Files
10 Steps To Organizing Photos & Memorabilia by Lisa Woodruff ($3.95)
2017 Budget Planner by Jessi Fearon ($19.97)
Evernote Essentials by Brett Kelly ($29.00)
Paperwork: Sorted! by Chrissy Halton ($12.39)
Spend Well Budgeting System: Printable Files To Help You Take Control Of Your Finances by Carrie Lindsey ($5.99)
The Sunday Basket: Weekly Paper Organizing & Planning by Lisa Woodruff ($7.95)
The Ultimate Unofficial Dropbox Guide by Jason Glaspey ($29.00)
Managing Your Time   
5 Days To A Better Morning by Crystal Paine ($2.99)
Mindspace: 10 Practices To Help You Let Go Of Mental Clutter And Make Room For More Joyful, Creative Living by Melissa Camara Wilkins ($9.99)
Never-Ending To-Do List: A One-Hour Solution for Busy Parents Who Want Less Stress And More Fun by Kelly Holmes ($4.99)
Routine Cards by Rachel Norman ($6.00)
Spend Your Days: How to Control Time with Rocks, Bullets, Chisels, & a Boat by Tsh Oxenreider ($8.00)
Cleaning & Chores
2017 Motivated Moms Chore Planner by Susan Cramer ($9.00)
30 Day Guide to a Clean and Organized Home by Rachel Jones ($27.97)
Energy Budget: Time Management for the Chronically Ill (And Others With Long-Term Roadblocks) by Rachel Ramey ($78.00)
The Three Systems Every Family Needs by Saren Loosli ($24.00)
Decluttering
Chaos To Clutter-Free: 16 Realistic Steps To An Organized Home by Davonne Parks ($4.99)
Freed from Clutter: Declutter Course by Becky Mansfield ($47.00)
Step-By-Step Decluttering: Your Guide To Less Stuff And An Uncluttered Home by Sarah Mueller ($15.00)
Family Organization   
30 Days To An Organized Life by Kimberlee Stokes ($9.00)
Home Management For The Homeschool Mom: Simplifying The Big Things So You Don't Miss The Little Things by Amy Roberts ($9.99)
Home Organizing DIY Assessment Workbook by Andi Willis ($7.00)
Organizing For School Success Kit by Saren Loosli ($27.00)
Organizing Life As Mom by Jessica Fisher ($12.00)
Sanity Savers For Christian Moms: Simple Solutions For A More Joy-filled Life! by Kristi Clover ($5.99)
Meal Planning
Meal Planning Made Easy by Kelly Smith ($7.95)
The Printable Recipe Binder Kit by Kalyn Brooke ($12.00)
The Ultimate Guide To Freezer Cooking by Crystal Barton ($10.00)
Bonuses
Exclusive $20 credit to SaneBox ($20 value)
4 month trial to YNAB ($20 value)—only available to new customers
The resources I'm most excited to start using are:
The Ultimate Guide to Freezer Cooking
Tell me I'm not the only one that loves baking but hates cooking?
10 Steps To Organizing Photos & Memorabilia
Because we all have a ton of photos collecting 'virtual dust' on our hard-drives. I'm really bad about organizing digital files (out of sight, out of mind), so I'm hoping this ebook will give me some tips on how to speed up the organization process and make it less tedious and time consuming!
30 Days To An Organized Life
Everyone's busy so I love resources that break things down into quick actionable steps – that way I don't get overwhelmed. Knowing I only need to do this 1 thing today to bring me a step closer to a goal, makes it a more manageable process and I'm more likely to follow through and complete the goal.
The only catch with this ultimate bundle is that it won't be around for long! So if you want to get it, make sure you grab it before the timer below runs out!

The retail value of this bundle is $658 but you get everything for just $29.97! (95% off!)
Here's the link if you'd like to purchase the bundle – don't forget to email me via [email protected] after purchasing to claim the bonus planner printables when you purchase through my affiliate link 🙂