One mistake I see Etsy sellers make is not using all 5 photos! You work so hard to get people to your shop to see your product listings. The listing they click on could be the one chance you have to make a first impression, by using all 5 photos you can show potential customers other products in your shop, explain more how your products work etc. People look at the photos more than they're going to read through your entire listing so make them count!
Using surplus photos
If you don't need all 5 photos for that product, here are some ways you can use the remaining photos:
Promote other products
Share a bit about your shop
How your products work (and how the product the listing is for works)
If you sell digital products, what happens after a customer places an order
Shipping & processing times
Whether custom orders or design changes are welcome
A color chart of the options
Related products/complementary products
The same product in different styles that are also available
Customer testimonials
Where they can find you on social media
One of the best ways you can use any 'leftover' photos, is to create a promotional image or product collage of other products in your shop. These should be complementary products, related or similar products. Basically, products that customers typically purchase with the product that the listing is for. So if you were selling party plates, customers are likely to also be interested in party napkins of a similar style and color.
In the video below I'm going to walk you through how to create a promotional image using a Photoshop collage template from my graphic design resources shop, PaperCravings.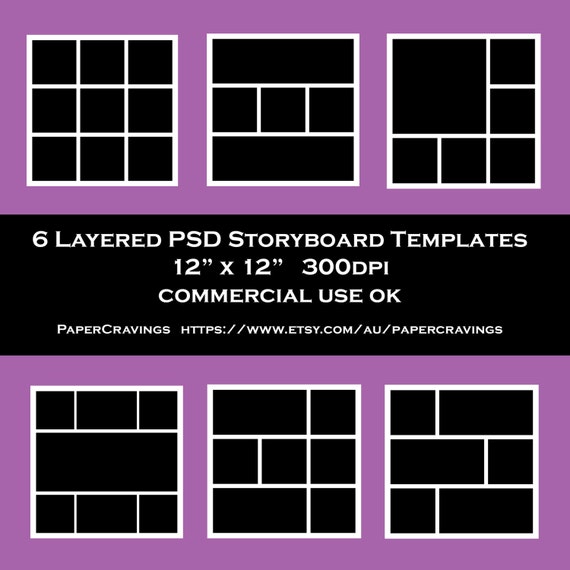 How to make a product collage/promotional image:
To enlarge the screen of the video, click the square icon in the bottom right hand corner of the video (it will say 'full screen' when you hover your mouse over the icon). If you miss a step or need to re-watch you can pause, restart, rewind and rewatch the recording as many times as you need!
If you don't have Photoshop already, you can download it here.
Find where the photos you want to use in the collage are saved on computer
Open the college template which can be downloaded from my graphic design resources shop: (8 different templates are included for just $5!)
Import your photos into the template in Photoshop
Use clipping masks to add each photo to the collage
Add text to the collage e.g. 'also available' 'new in the shop' 'coming soon' 'you may also be interested in' 'visit the shop for more products in this range' etc. – be sure to add your shop name and URL as well! (this way when you pin the image to Pinterest people will be able to find your shop more easily, and it also prevents people from stealing your photos)
Save the finished product collage in JPG file format
Upload to Etsy or your online store, Instagram and/or other social media
Here's an example of the finished product
I created this collage using products from my sister's online shop, Carefully Crafted (she also has tons of washi tape, fabric and planner supplies! 🙂
If you have multiple items in the one photo or you want to promote other products to make sure you use all 5 photos (or at least 3 – 4 photos), then make sure you specify in the product description (towards the end), something like:
'This listing is for the <your product name> shown in photo 1. Photos 2 to 5 show other designs that are available in the shop: ><include a clickable URL link to where these individual listing are in your shop or to the shop section where those other designs can be purchased>'
Want to learn more of my strategies for increasing sales in your Etsy shop (or online business)?
I share ALL of the strategies I've developed over the past couple of years as an Etsy seller – strategies that have earned me over 14,000 sales between my 2 Etsy shops in my ebook: 54 Mistakes Etsy Sellers Make (and How to Fix Them)
Related Posts