I have a LOT of listings in my Etsy shop (over 900). Some of them hadn't been updated since I first opened my shop in early 2013. I started an email list (only took me 3 years – my bad), so wanted to update all of my listings to include a link to my blog and where people can subscribe, as well as Instagram (if you aren't following me already – click here to follow me :).
I literally wanted to cry just thinking about how long it would take me to update all 900+ listings. So I did a LOT of Googling and did a happy dance when I came across ShopShaper.
ShopShaper is a brilliant, easy to use, simple and, my favorite part – quick – tool to update multiple Etsy listings in a matter of seconds.
With ShopShaper you can update all listings in your shop at once, or pick and choose which product listings you want to update.
How to batch bulk edit all of your Etsy listings in just a few minutes
To enlarge the screen of the video, click the square icon in the bottom right hand corner of the video (it will say 'full screen' when you hover your mouse over the icon).
For more tutorials, subscribe to my YouTube channel
Links mentioned in the video
Other tutorials that may interest you
What you can do with ShopShaper:
Edit one listing
Edit multiple listings
Edit listings from the same shop section
Change photos
Replace text
Add text (and choose whether you want to place this above or below certain text in the listing)
How to install ShopShaper
Go to ShopShaper's website http://www.shopshaper.net/
Download for Windows or Mac depending on the operating system your computer uses
Double click to open (its not a program that needs to be installed-yay!) and add your shop. You'll receive an authorisation code from Etsy, just copy and paste that link
Now that it's set up, here's some of the things you can do with this tool:
Here's what the main screen looks like:
Shame it doesn't show previews of each listing photo 🙁
You can load the listings by section:
And choose from active, inactive, expired, draft and sold out listings
Tick the boxes on the left to select certain listings (circled in green in the example below)
Or tick the box in the top row (circled in purple in the image below) to select all listings in that section (you can then deselect listings if they don't require changes i.e. you don't need to manually click on all of your listings, if you have a lot of listings it will be quicker to select all then deselect the ones you don't need)
You can choose to select all listings per page within ShopShaper – if your computer is slow loading I recommend going page by page.
Once you have the listings selected, click on 'edit selected listings'
If you only want to edit one listing, click the edit button beside that listing:
Now let's start making changes…
Replace text in a listing (or multiple listings at once)
I wanted to update the bottom part of the listing where I have links to my blog etc. that were outdated. I've added customer reviews to the bottom of some listing alter this text and was worried that it would over-ride it. But all you need to do is copy and paste the text you want to replace, then type the new text and the tool will only replace that text, and leave the rest of your listing untouched.
When you've finished making any other change you want to make, click on 'apply changes to selected listings'
When the changes have been made it will move from 'processing' to 'done' and if the listing already had the text you want to replace (i.e you may have already updated some of the listings but not all, it will say 'no change' and leave the listing as is).
Before
After
I use bitly (it's free) to shorten URLs (like I did with my YouTube Channel link in the text I added to my listings)
Update & Change Photos
You can:
Add photos only if it has less than the maximum 5 photos Etsy allows (love this feature that way it's not overriding any existing photos)
Replace photos (and choose the exact photo to replace)
Delete photos (and choose the exact photo/s to delete)
ShopShaper saves me so much time as I only needed to locate and wait for an image to upload once. I use the bulk edit photo feature to add a promo image to any listings that don't have all 5 photos used. This is the image I upload: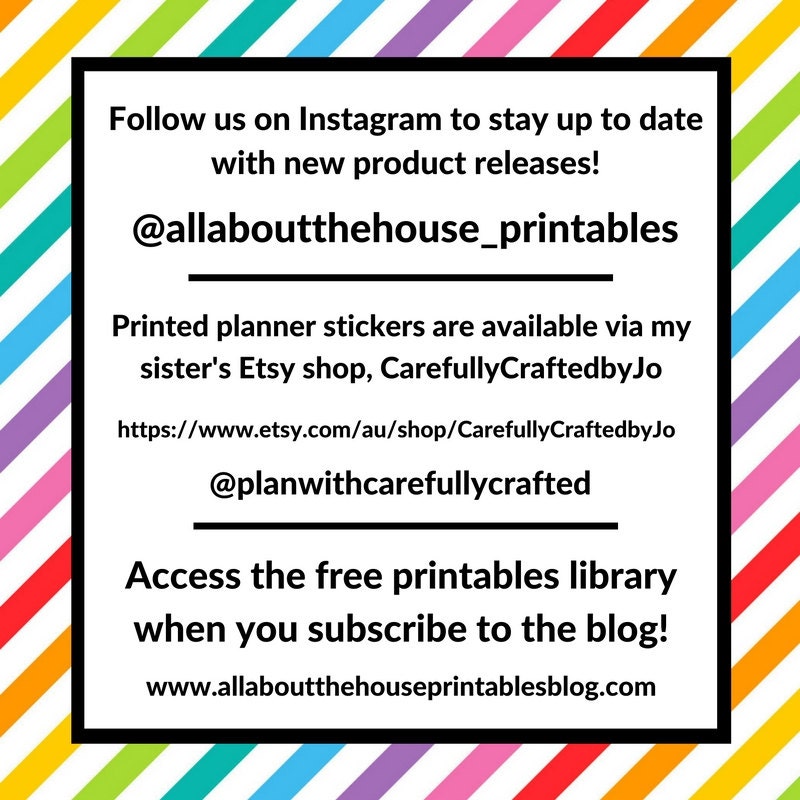 It includes links to where customers (or potential customers) can subscribe to my blog (where they can download and try out some free printables from my shop) and follow me on Instagram. I highly recommend using all 5 photos in your Etsy listings, some other ways you could use them:
Promote related/similar products
Promote complementary products
Include an image of a bundle that product is from
Social media platforms they can follow you on such as Instagram, Facebook and YouTube
If you offer discounts such as 10% off orders of $30 or more
If you include photos of the products in your shop, be sure to add a banner over the photo with some text like 'also available in the shop' otherwise people may think those items are included.
With the tool you can bulk edit all other elements of your Etsy listings including:
Tags (make sure you don't use the same tags for all of your listings). For help choosing tags (what Etsy calls keywords), I recommend Marmalead or Google Adwords.
Update shipping info
Pricing
Change shop sections
Materials
Quantity
Tax rates
Categories
Listing title
Why I love this tool:
When it says done, it actually is I went back to my shop after making changes, refreshed the listing/s and the updates were all there – straight away. No waiting hours for the changes to take effect – it really was instant!
Easy to use
No installation required. It's not a program you have install on your computer, you download, move to your documents folder or desktop then double click on the program and you can start using it straight away
How much does it cost?
I was pleasantly surprised that ShopShaper is REALLY affordable. As in, you can do a free trial for 7 days. If you need to make batch changes after the 7 day period, you can do a 24 hour access pass for only $1. $1 to save myself hundreds of hours of pain and boredom of copying and pasting the same text over and over and waiting for images to upload – that could be much better spent elsewhere. Um, yes please!
What this tool is missing:
When you make a change to a selection of listings, after you've applied those changes it resets to the main menu and if you want to make further changes, or further changes to only selected listings then you have to reselect them all again
An option to search for text within lisng that you want to get rid of e.g. you may have updated some but not all and want to fnd the ones that still require updates. Same for images would be good as well
If you edit one listing its instant – if you're editing hundreds of listings it can take a while – especially if you're updating multiple elements. I recommend updating only 1 element at a time e.g. swapping out photos or updating tags OR replacing text OR adding text
If I sound a little salesy pitchy in this post I don't mean to be – this tool just made me really excited. I'm not affiliated with the product in any way, I'm just super grateful to the creators of this tool as it saved me hours of monotonous shop updates 🙂