If you're stuck in COVID-19 lockdown or just in need of something to do, this post has some of my favorite project planners.
If you're not sure what projects to work on, here are a few ideas:
Learn a new skill e.g. learn how to build a table from scratch, sew a quilt, make printables
Reorganize a room of your house or part of a room e.g. closet, kitchen cupboards
Make a Photobook (download my workflow printable and see how I make them in this post)
Share investments research and strategy
Savings plan e.g. how you're going to save money for a car
Travel planning (might not be able to travel now but you can still plan itineraries so you're ready when borders reopen)
Best notebooks for project planning
In no particular order:
A simple notebook… but sometimes simple is best! This handy sewn booklet has half lined pages and half checklist (with a top 3). Great for brain dumping ideas on the left and then organizing those into tasks on the right page. I'd really like to see a version of this notebook with dot grid pages on the left instead of lines.
Read more: Mi Goals Get Shit Done Checklist & Dot Grid Notebooks
If you want the dot grid paper I mentioned above, the Action Book is similar to the Mi Goals with 1.5 pages of writing space (on dot grid), plus a to do list on the remaining quarter of the spread.
They offer the design in various formats: wire bound notebook, hardbound notebook and notepads in different page sizes.
I shared how I used this notebook in this post
Price: Varies depending on the page size and format (notepad, notebook) that you choose
3. Agendio custom planner
You can create an entirely separate project planner book – which is what I did. I'm currently using it to plan my latest ecourse (how to make digital planners and notebooks) so will post a review / how I used it once the course is finished.
This was the layout I chose:
The price of an Agendio varies since everything can be customised (page size, number of add on pages, daily, weekly, monthly, coil bound, hardcover, color printing versus black and white printing etc.)
Read more: Agendio Planners Haul (Daily, Weekly, Monthly, Project Planner & Bullet Journals)
4. Frank Stationery
I have the Frank Stationery planner and while they don't produce the most exciting planners appearance wise they do offer functional spreads in different layouts than most companies offer. The project planner has a weekly to do list combined with the format of a habit tracker so you can allocate tasks to the days you plan to work on them. A good layout not only for project planning but to use for general weekly planning if you prefer to work off a list like I do.
If you're in Australia (like I am), shipping is cheap as the company is located in New Zealand.
Price: 35 NZD plus shipping. Note: the planner is undated but only has a 9 month duration.
Quick Facts
9 Months of project planning
Monthly & Weekly Planner
Reflection section
Grid Pages
Blank Pages
Lined Pages
Lay flat wire binding
100 GSM paper (this is thin paper so expect pens and highlighters to show through to the other side)
A4 page size (24cm wide x 29.5cm high x 3cm thick)
200 Pages
I don't have the project planner (on my planner shopping list), but I do have their weekly planner if you want to look at the style / quality. I did a review in this post.
5. RocketBook Fusion
This notebook lets you write on the pages, scan it in using the QR code in the bottom corner of the pages, and then wipe the pages clean to reuse. I haven't tried this notebook but am seeing more and more of these coming out so definitely need to try one (just can't decide which!)
42 reusable pages with 7 different page styles for planning, listing, goal setting, note-taking, sketching, and sharing big ideas
Includes task list, weekly planner, monthly calendar, OKR goal template, idea list, dot-grid, and lined pages
Infinitely reusable
Works with any Pilot FriXion pen, marker or highlighter (pen included)
This does come with a hefty price tag at $70 USD for letter page size and $65 USD for what they call 'Executive Size' (6″ wide x 8.8 high")
They also have dot grid and lined notebooks too.
While the intention for this planner is to use it as a daily planner, you could ignore the app and use the wheel for a visual timeline. So instead of 10pm, you could draw a line to 10 with the main task to get done in week 10. The dot grid paper is great for sketching / drafting designs for whatever project you're working on.
Quick Facts
Size: 5.5″ wide x 8″ high
Bookbound / sewn bound
Unique daily planning layout – clock face on 1 side and dot grid paper on the other page (i.e. up to 2 planning pages per day)
Undated – can start planning anytime
2 Built in bookmarks
Time block in 15 minute increments
Price: Out of stock on Amazon at the time of writing this post.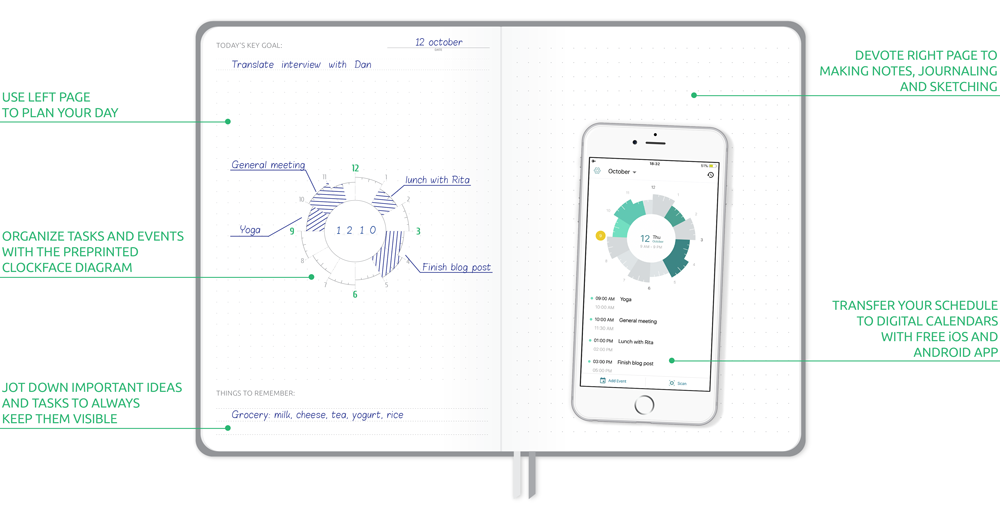 Read more: Using the Slice Planner (daily planner + app)
If you're a fan of discbound planners but don't like the colorful style of the Happy Planner, the Thinkers Notebook is a very paired back discbound notebook with a neutral color scheme, lined and dot grid pages only. No extras, no frills – just the essentials.
It does come with an app where you can take a photo of the page and it'll crop out the background so only the page is left… but you can't do much else with the app. It only has normal writing paper not reusable like the RocketBook.
Quick Facts
Black poly material for the front and back covers
Silver disc binding (0.6″ / 1.5cm diameter rings)
Bright white paper
100 double sided pages – 50 dot grid pages (0.25″ / approx 6mm spacing) and 50 lined pages (just over 0.25″ / around 7mm spacing)
100 GSM paper
Price: $24.95 USD + shipping ($20 USD on sale at the time of writing this post).
Read more: Thinkers notebook review (discbound notebook and app)
8. Happy Planner
The Happy Planner does have a project refill page you can add to your Happy Planner or Happy Notes book but I think their classic size refills and classic size half sheet inserts with dot grid on one side and checklist on lined paper on the other side are good too!
If you're working on a project that has a lot of repeat steps, try the teacher checklist pages.
Related post: Favorite Happy Planner Refill Inserts
9. Your own bullet journal spread or printables
One thing I notice with project planners and notebooks is the lack of timeline pages, to do lists with a timeframe, estimated time for each task or even just an estimated time section. It's quick to draw up your own layout exactly how you want it. I prefer to use landscape page orientation for these types of pages:
Read more: 25 Ideas for your Bullet Journal To Do List Spreads
The Craft Planner is another option. It's a hybrid bullet journal notebook / planner with an annual overview by week and an open ended weekly spread.
Read more: Review of the Craft Planner by Cobbery
You might not want to use a digital planning app like like Goodnotes, Xodo, Noteability, Noteshelf, Zoomnotes, OneNote etc. for day to day planning, but it's handy for planning projects. Tabs easily organise information without pieces of paper everywhere, you can keep your project a secret and if you use the Apple pencil (or other Stylus pen) it's close to writing on paper – you'll never run out of pages or ink and can use any colors you like.
More planner roundups
Found this post helpful? Pin it!