If I could only plan using one type of spread it would be a to do list. There are so many possibilities – lists by category, color coded, time based etc. here are some ideas to use in your bullet journal!
Must Do, Should Do & If I have Time
I really like this format for prioritising the most important things. I typically do a sliding scale:
Prioritised
If you don't want to do must do, should do and if I have time, add a priority box at the top of the page and then list out all your tasks.
Time Based
A page I think every bullet journal (or planner) should have – time based tasks lists. How many times have you gotten ready a few minutes early before heading out somewhere? Instead of mindlessly scrolling through Instagram you could knock a few of those 'I'll get around to them eventually' things off your to do list.
Project Planning
I've organized project tasks in a few ways:
At the start of each month or quarter (or even annually) list out all the projects you want to complete and all the steps required to finish them. 2 columns on the page is simple and quick to setup for  smaller projects that don't need a separate project planning page, and for projects you can work on concurrently. Pages like this look pretty and functional when color coded with highlighters 🙂
Top 3
Read more: Happy Planner Skinny Classic weekly spread
Access the free printables library and be notified when new blog posts are published
Monthly to do list
I prefer a list style monthly spread like this instead of the traditional boxes for each day
Maybe you prefer to plan your month by week instead. By week is ideal if you have a few projects on the go. Pick 3 goals to focus on for the month and then distribute the tasks across the weeks.
If you have lot of similar tasks, use a layout like this instead. Saves space and you can highlight the boxes of the week you intend to work on that task, then cross it off once it's done.
Replace the hourly schedule section on this spread and add the dates for each month instead, or use that space as a brain dump to do list before allocating tasks into each of the boxes on the right.
Packing list
One of the first printables I ever made was a packing list as it takes a long time to rule up the page and write out everything you need. So if you're going to do it, make it worthwhile and add multiple columns either for multiple trips for yourself, or to keep the entire family's packing list in the one place instead of everyone wasting time writing out the same items.

Weekly overview
Before allocating tasks to a day, set aside a page to brain dump everything you want to get done that week. If you don't need the whole page you could add a 'snapshot' of the week where you allocate the most important task to each day, use for meal planning, or just create a 1 page weekly spread.
Related: 10 Bullet Journal Landscape Page Orientation Weekly Spreads
Sticky note bank
I tend to use sticky notes for meal planning and blog post planning but you could use them for tasks as well – especially recurring tasks. Write them out, allocate to a day on the monthly or weekly spread, remove once complete and transfer to the notes page of the next month (or a notes page at the back of your planner) ready to do again.
Or set up a separate page in your planner by category such as cleaning tasks (I move the sticky note to the right page when it needs to be done and back to the left page when it's completed).
Related: 50 cleaning task reminders to add to your planner
Stickers
Icon stickers are good for decoration but could also be used for color coding. The sticker I used in the photo below is from the MAMBI journaling sticker book. It includes a few outline stickers that you could leave white.. but I prefer to color them in.
Daily to do list
Color coded
If you're going to use the key I used in the photo below it becomes a 'moving' to do list that requires regular updating so I recommend using erasable pens and highlighters. I've only done this type of list setup for brain dumping tasks to work on that month.
There are so many ideas for color coding your planner, see this post for a list of 50 category ideas.
Shaded lines
I'll be doing a post soon with the different chisel tip sizes for popular highlighter brands. In the meantime, something to keep in mind when shopping for highlighters is that most dot grid notebooks have 5mm dot grid spacing, so highlighters with a 5mm chisel tip look best e.g Stabilo Boss.
Related post: Highlighter Brands Comparison (And My Favorite Highlighters for Each Brand)
Read more: Bullet journaling in the Scribbles that Matter Notebook (is it worth the hype?)
Stamps
I basically only use the Frixion self-inking erasable stamps. MAMBI checklist stamps if the paper is thick (140 GSM or thicker as otherwise they tend to have bad ghosting).
Minimalist
If you only want to do a typical to do list layout, add a bit more decoration by adding borders. if you want to color code, use different colored pens for the borders of each to do list.
Some of the supplies I've used to make to do list spreads:
This post contains affiliate links. If you click one of these links and make a purchase I'll receive a small commission in exchange for referring you.
Read more:
More bullet journal layouts
Save time! Resize a printable for your bullet journal instead of re-drawing the same spreads. Tutorial in this post.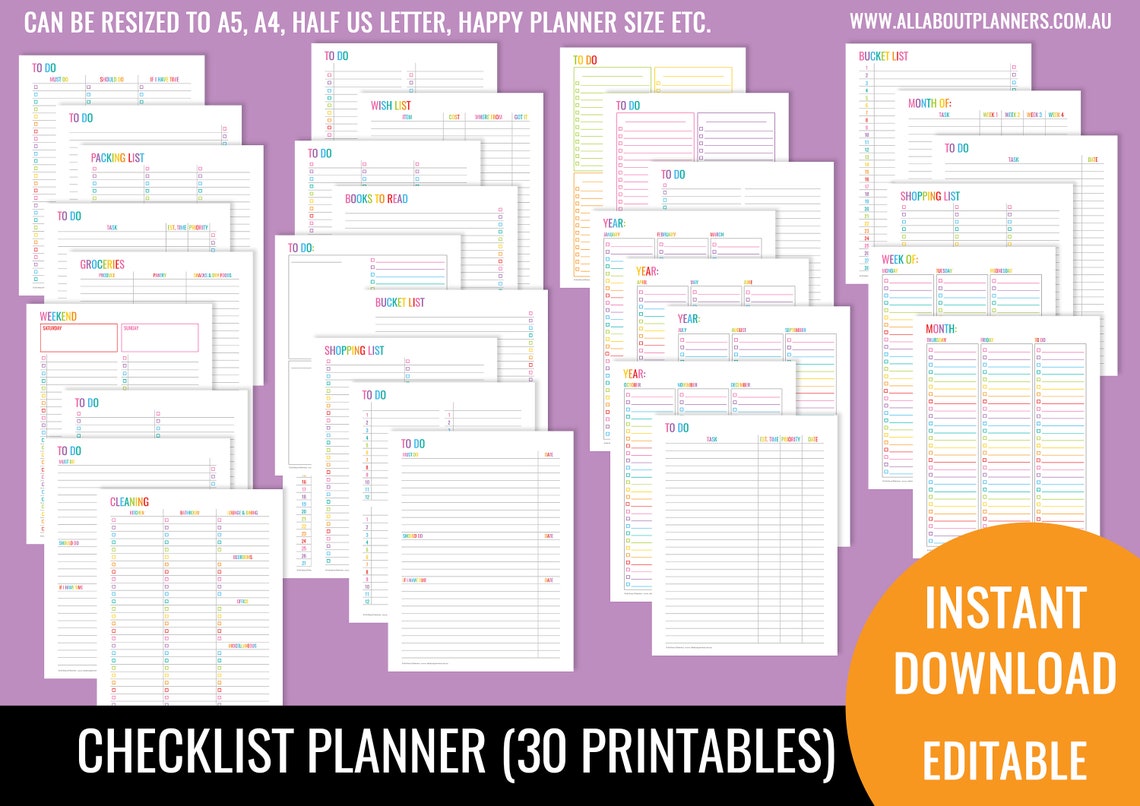 Found this post helpful? Pin it!