A question I'm asked time and time again is where to get printables printed if you don't own a printer.
My first response is always, why don't you have a printer?! They're super cheap these days and you can find compatible ink cartridges off eBay (I get mine for $1.50 per cartridge as opposed to $25 in store). If you're going to be printing a lot of printables such as if you're setting up a household binder, recipe binder, budget binder or your own planner, then it is more economical to purchase a printer – I did a cost comparison between printing at home and printing through a company in this post.
But if you don't own a printer and you really don't want to buy one, there are a couple of places from around the world that will print and ship to your door.
When choosing a print and ship company, here are a couple of things to consider:
Setup fees (is there an initial cost to set up a file for printing – this is usually for notepad printing)
Free shipping
How long shipping will take
Whether they complementary services such as spiral binding (to make a notebook) or laminating (ideal for pages you use over and over again such as meal planners, calendars and daily planners)
Also be sure to check the cost per side for printing. It can sometimes be deceiving when they state color copies from 5c as this will usually be 5c per side
If they'll print onto label paper – most places won't have an issue printing onto label paper rather than normal copy paper, but you'll probably need to go into a store and take your label paper with you to do this. See this post for a list of recommended places to buy label paper. Tip: don't buy Avery or the Silhouette America brand label paper – it's expensive and there really isn't any difference between non-Avery brands (other than the price!)
Hole punching – this is typically more common with print in store companies such as Officeworks rather than print and ship websites
PRINT AND SHIP WEBSITES
Vistaprint can be pricey but if you sign up to their mailing list they do discount promotions quite frequently. I haven't seen anywhere that they do black and white or color printing (correct me if I'm wrong in the comments) they mainly offer personalised notebooks, invitation printing, address labels, otepads (grocery lists to do lists, a daily planner notepad etc.) mugs, calendars etc. so if you want to some one-off stationery for yourself or for a gift, try Vistaprint.
Vistaprint has locations in the USA, UK and Australia.
Related post: 7 Ways to make colors POP when using an InkJet printer
Similar to Vistaprint, this company offers much more than just black and white and color printing. They will also print menus, postcards (ideal for recipe cards), catalogs and calendars.
Their prices are low at just 2.5c per side for black and white and 9c per side for color printing.
They have no setup fees, no minimum number of pages and offer free shipping for orders of $125 or more to the USA.
I did a detailed comparison of the cost of DIY (printing at home) versus printing via one of these print and ship companies. I've also done a quick cost breakdown of how you can make a custom notebook or planner for $10, keep reading, it's later on in this post! 
Ship and Print Place in the USA is similar to Best Value Copy but more expensive. They do offer volume discounts so if you wanted a lot printed (e.g. if you were making personalised notebooks for your friends and family for their birthday or Christmas), then you may be able to get a better deal (you could also quote a competitors price and see if they'll match it.
They offer:
Poster size printing
Standard page size printing (US letter size or 8.5 x 11")
Folding services
Laminating services
Ship and Print place would be an ideal option for those living near where they are located (in Maryland near Washington).
Related post: How to print printables at MAMBI Happy Planner Size (step by step tutorial)
Like most of the others on this list, Staples offer wide format printing, brochures, postcards (for recipe cards), spiral binding and laminating. They also offer invitation printing, cards and address labels.
You can set it up online then have it shipped to you or pick it up in store.
Staples is located in the USA, UK and Australia.
Related post: Printing Tips
Need to ship something? Why not have Fed Ex do your printing at the same time? Like most of the other companies they offer a volume discount. They also offer much the same products as the other print and ship companies including standard black and white as well as color printing, notebook printing and also magnets!
You can order online and collect.
Related post: Which is Cheaper: DIY Printable Planners or Pre-Printed & Assembled Planners
Officeworks have a handy print & copy pricing guide on their website which outlines the cost for all of their printing services in an easy to read format.
They can print onto standard 80GSM paper or thicker 200GSM paper (which is ideal for notebook covers). Plus they offer hardcover binding. And can also cut pages to size if you want to make A5 planner inserts, personal size etc.
Officeworks have the ProClick binding system which is like spiral binding only you can rearrange pages as much as you like (a cheaper alternative to the Arc planner system).
Related post: Planner Organization: Why I use the Arc Planner instead of binders
Like the other companies on this list they offer poster printing, spiral binding, laminating, cutting services as well as black and white and color printing. In addition they can make personalisaed mugs, keyrings and the like.
They offer a tired pricing system so if you print more it'll cost less.
At the time of writing this, Dox Direct offers free shipping for UK orders of 5 pound or more. They have an 'instant quote' calculator so you'll have an accurate idea of how much it's going to cost before you go through the process of uploading the document.
Related post: How to choose a printer including the best printer for printing printables and planner stickers
Do you have a favorite print and ship company note listed?
This is not an exhaustive list – I'm sure there are many more office supply stores and online print and ship companies near you – a quick Google search should bring up plenty! Feel free to shout out in the comments below if there are any that I've left off the list 🙂 I believe Office Depot offer printing services but I was unable to get onto their website (it kept giving me an error time out message) so I was unable to compare the printing costs.
My personal favorite
I live in Australia and Officeworks is my go to place for printing enlarged calendars (at A3 size or poster size and then cut down to suit). They also offer laminating services and can cut paper down to non-standard page size (such as A5).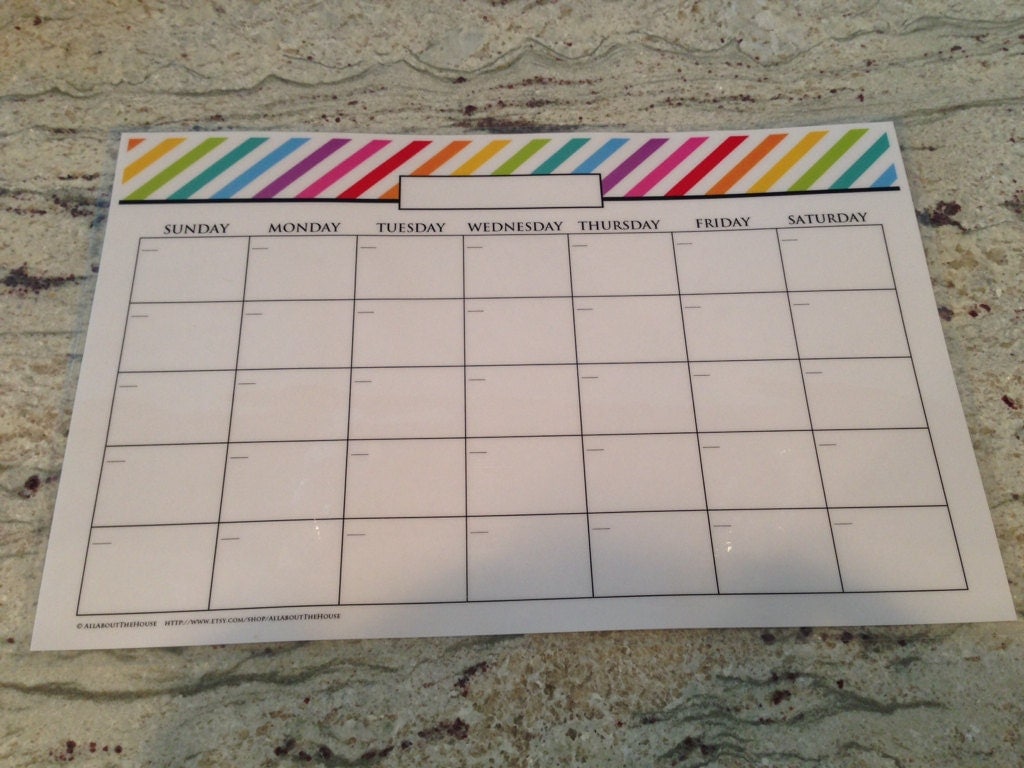 Officeworks also do laminating and spiral binding if you want to make a custom notebook (using a printable binder/planner cover and lined paper). The monogram binder covers/planner covers in my shop come with lined note paper included in the download 🙂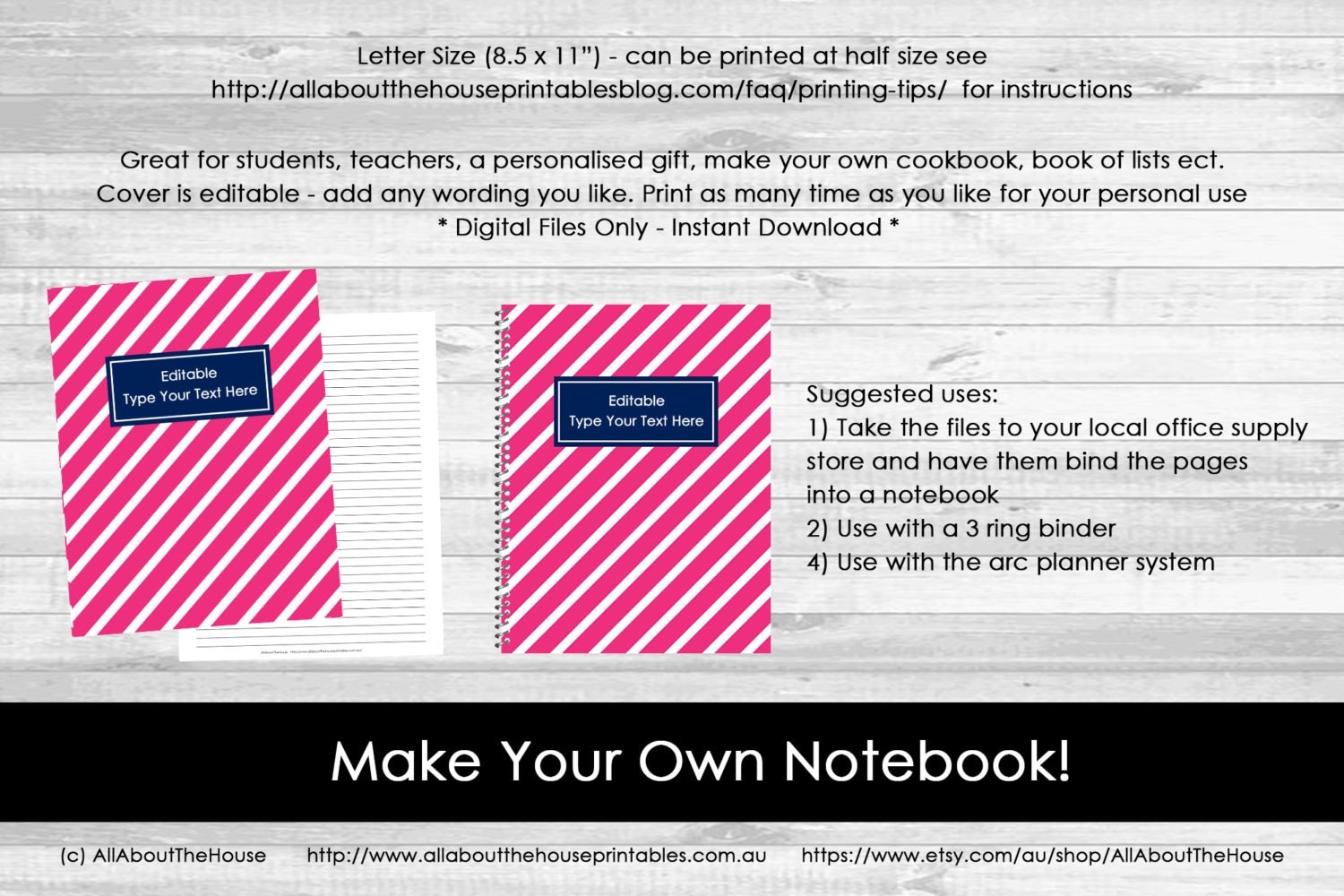 Making a custom notebook
To give you an idea of the cost of using a print and ship company, you could make a notebook for less than $10. Let's use Best Value Copy as an example.
50 pages double sided lined in black ink
= 50 pages x 2 sides x 0.025c
= $2.5
Color front and back covers
= $0.09 x
= $0.18
Laminating
Front and back coves, lets say $1
Spiral binding
Most office supply stores offer this service for around $5 (depends how many pages you need bound)
Total cost for a custom notebook = $8.68
You could of course switch out the lined notes pages for planner pages, recipe pages, checklists or a mixture of any other printables you like!
I did a detailed comparison of the cost of using a print and ship company versus printing at home 
Related post: Printing tips (step by step instructions & video tutorial) 
PRINT RELEASE FORM
I have had some customers email me saying Fed Ex (USA only) and Office Depot (USA only) will not allow the printables to be uploaded and printed, and that you need to go into the physical store and show them the print release form before they will print the files.
If they ask for a print release form, it can be downloaded here through the online shop (you won't have to pay anything just add to cart, checkout, print and take it with you to the store).
USING YOUR HOME PRINTER
If you do own a printer and the reason you're reading this post is because you can't work out how to, for example, print at half page size so want to get an office supply store to do it for you, then check out the FAQ page. There are lots of instructions for printing including borderless and printing at non-standard (Happy Planner, Erin Condren etc.) page size.
And if the FAQ page still doesn't answer your question, you can consult your printer manual online (although I also recommend keeping it in a household binder :)).