Planner addicts seem to fall into 2 categories: 1) they decorate their planner every week or 2) avoid all decorating and keep it simple. If you're part of the latter and the reason you don't decorate is because it takes too much time (or you think it will take too much time), here are 10 planner supplies that will help you plan your week faster!
1. Erasable pens
Don't waste time getting out the correction tape, just erase and re-write with erasable pens.
My favorite are the Frixion erasable
2. Quality Ruler
Don't waste time rubbing out crooked lines. If you watch my planner review videos on my YouTube channel you're probably already aware my favorite ruler is from Poppin. It's heavier than most rules so stays in place while you draw a line, has inches in big bold font (mm and cm are on the ruler too) and it comes in a ton of bright colors.
Related: Answers to 50 Frequently Asked Planner Questions 
3. A notebook with lines or dot grid
If you already use a bullet journal you'll already know how much time notebooks with dot grid paper save when creating spreads. It's much easier to use a built in guide and it keeps all the boxes for each day / planning category straight and aligned.
Some dot grid notebooks to consider are in these posts:
Cheaper dot grid notebooks usually don't have numbered pages and the paper is usually so thin that pen ink either bleeds through or has really bad ghosting. I do think it's well worth the splurge for a notebook that has good quality paper. Notebooks with pre-printed page numbers and multiple ribbon bookmarks in different colors will help you quickly to find the page you're looking for.
Related: Scribbles That Matter Notebook Review
4. Stencils
If you're a list lover, the MAMBI checklist stencil is for you.
There are some stencils with flags, boxes, list symbols, icons that you can mix together to create a spread.
I also like stencils that have already created a layout for you (weekly spread, monthly spread, habit tracker, checklist etc.). Some recommendations are in these posts:
Bee themed weekly spread in the Esc. goods notebook
5. Checklist washi tape
Not sure why more people don't use checklist washi tape in their bullet journal spreads, or for planning in general because this washi tape is so convenient. 
Ink by Jeng has handy habit tracker washi tape with the checklists for each day's habit already printed.
6. Planner stickers
I use functional planner stickers only. In particular: icons, header stickers and habit trackers.
Related: How to use functional icon planner stickers
Related: How to color code bill paying in your planner (7 different ways) 
I occasionally use sidebar stickers with routine tasks (like these ones from my shop) especially in the monthly spread.
7. Habit tracking stamp
Whether you're a bullet journaler or want to use the monthly notes page, sidebar etc, adding a habit tracker using a stamp like this will be much faster than….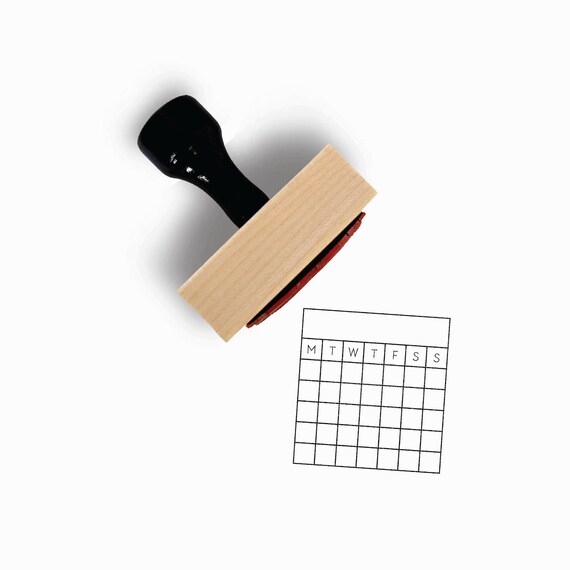 … Ruling up a page 'manually' like this:
8. Washi tape
If you're thinking washi tape is only for planner decorating, think again!
Some functional ways to use washi tape:
For things that are spread over multiple days e.g. marking vacations on the monthly calendar to save time re-writing
Things that could change – just peel and restick
Tabs or page markers if you're using a planner or notebook that doesn't have one
Color coding
Weekly spread using Planner Kate rainbow stickers
Related: Colorful Bullet Journal Inspired Weekly Spread
Related: Favorite washi tape for planning, planner decorating & color coding
Read more: My all time favorite washi tapes (and how I organize them)
9. Sticky Notes
Some ways to use sticky notes:
Pre-planning the week
Shopping lists
Keeping a master list of those annoying little things that I don't want to take up space in my planner – 'life admin' (I can usually only motivate myself to do 2 – 3 per week)
Project you're working on with the steps listed out
Recurring tasks (monthly, weekly etc.)
Things that could change – appointments etc.
Meal planning (more on that in this post)
I use and recommend the Post It Note 3M as they can be peeled and re-stuck for a number of weeks before they lose their stickiness.
Related: Using a Kmart lists book to plan your week (planning by task, rather than by day) 
Related: Color coded monthly meal planning using sticky notes 
10. White out correction tape
I only use whiteout correction tape, not liquid. I don't have to wait for it to dry, it's quick, easy, it doesn't clump and it's cheap.
I use the Keji brand from Officeworks – 2 tapes for $1! I'm not affiliated, I just like when I find things that work well and are cheap 🙂
Read more: What type of pens write best on correction tape? (gel pens vs. ballpoint vs. marker pens)
More planning tips
Planner Reviews
Browse 500+ posts on the blog!
Found this post helpful? Pin it!