Washi tape is a great way to inexpensively add a pop of color to your planner! With so many different types of washi tape to choose from, it can be a bit overwhelming. So if you're trying to restrain from spending a ton of money (which is very easy to do if you're spending a couple of dollars on washi here and there!), these are my washi tape essentials:
To enlarge the screen of the video, click the square icon in the bottom right hand corner of the video (it will say 'full screen' when you hover your mouse over the icon).
Subscribe to my YouTube channel for more planner related videos & graphic design tutorials!
I'm very much a functional planner. if somethings going into my planner it needs to serve a purpose. This washi tape can be used to make a checklist, hydrate tracking, for routine/daily habit tracking and comes in a variety of styles including: circles, squares, hearts, as well as Christmas shapes like trees (so cute!).
This washi tape is very cheap (my sister has it in her shop – along with hundreds of other planner supplies), there's a lot of washi on these roles and they last a long time 🙂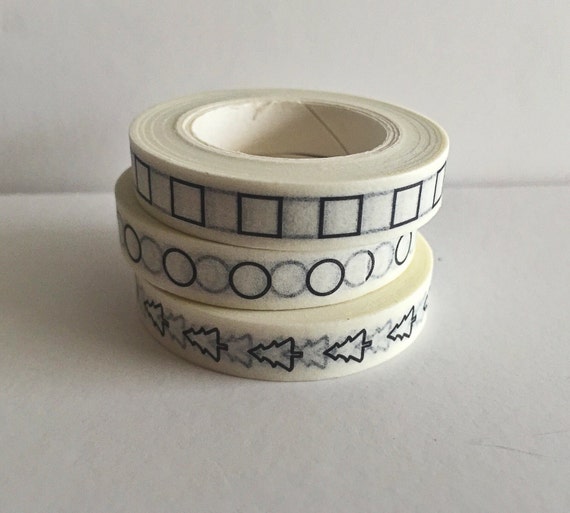 Related Post: Ultimate list of the best planner pen brands and how to choose colors for color coding 
If you love rainbow colors as much as I do, the Doodlebug washi tape is a must have. They come in packs of 12 colors and there is tons of washi on the rolls. Not only that, they come in different patterns including chevron, polka dots, stripes, gingham and scallops/waves.

They're great for creating a DIY planner page, and making to do lists. My sister stocks this washi in her shop 🙂
Thin washi tape
Perfect for sectioning off your planner, thin washi tape (approx 0.25″ wide or thinner) doesn't take up much room, serves a purpose and still looks pretty. You can also get this washi in neutral colors like black and grey. It's also ideal for decorating and adding a pop of color to personal size planner pages which are small and don't leave a lot of room for planning!
This is the washi tape I mentioned in the video (that can be a bit hit and miss with the colours being either very bright or very washed out). This pack and this pack are my favorite.
Update: Recently discovered this super skinny washi tape (it's only 2mm wide!)
Wide washi tape
You can get washi tape up to 1″ wide. The largest width I use is 15mm (1.5cm) – which is the most common size for washi tape. I mainly use this washi tape for color coding the edges of the pages of my planner.
Related: How to color code your planner so you'll actually use it effectively 
This size has the widest range of patterns so are perfect for decorating 🙂
Another option is to use it to signify vacation days so you don't have to keep re-writing or using a bunch of stickers (i.e. save time and money) by using a strip of washi instead. if you want to write on the washi tape, I did washi tape pen testing and shared the results in this post. 
Solid colored wide washi tape is also good for color coding e.g. using a different color for each family member, category of your life that you plan (work, school, blog, business, health, meal planning etc.)
More washi tape posts
Access the free printables library and be notified when new blog posts are published
Liked this post? Pin it!