After selling on Etsy for 4 years and making over 13,000 sales here are 13 lessons I learned which I wish hadn't taken me a few years to figure out!
The importance of a minimum viable product
When you love your business a little too much it can be easy to spend a lot of time making a product, tweaking and refining. And whether it's fear that no one will love your product as much as your labour of love, or an obsession with perfectionism holding you back from getting it out there into the world: Stop!
Make the 'bare bones' base/pro-type product and get it out there and start getting feedback. Too many times I've gone all out making a product (or even an entire product line) and by the time I get it out there someone else with a similar idea has stolen the market share for it, or the product ended up being a flop no matter that my extensive market research had it pointing at being a popular product.
The only way you're going to know if a product will be a success is to get it out there and see how the market reacts. If the response is good, only then should you work on upgrading, expanding, tweaking and refining. And if it ends up being a flop then you won't beat yourself up or feel like you wasted a lot of time.
Trends come and go
I had a product that was a bestseller, I sold at least 1 every day for an entire year and then suddenly, the sales stopped. Just like that, poof, my once most popular product no longer sold. The listing even expired meaning no one had purchased the product in the past 4 months!
Lesson learned: trends move fast, if you're going to jump on a trend you gotta get on it fast. At the same time you can't be catching every trend that comes along.
My strategy for trends is:
If it is easy, quick and low cost to incorporate the trend into a product then I do. For example, if a color is trendy and it's easy to alter the product to incorporate that color then I do so, but I still make sure I maintain the popular base colors (such as black)
Trends should add to and enhance your product offering, not replace your existing popular product features
If I'm going to incorporate a trend, I do so first with my most popular products, because that way there's a higher chance that people will purchase because the product is already popular
You can have the best product in the world but if no one knows about it, it may as well not exist
Never under-estimate the power of social media and word of mouth marketing. Marketing is definitely my weakness. I've made a few crucial mistakes including not starting an email list and not joining Instagram until 3 years after I started my business.
You MUST have a presence outside of Etsy to drive traffic to your shop and build trust. When you blog and market your product outside of Etsy the hyperlink to your products that drive traffic to your shop also increase your credibility with Google i.e. your blog posts are more likely to show up higher in search results and hence, people will be able to find you more easily.
If no one knows you exist then how can you expect people to find your shop? And if people can't find your shop, how do you expect to make any sales?
Have a look at the top sellers in your niche, those shops you gravitate to for inspiration and motivation (or use a site such as CraftCount). Most of them will have a presence outside of Etsy whether it's a lot of subscribers to their YouTube channel or a huge mailing list from their blog. Those followers are their customers, hence why they have a lot of sales and are the big players in your market. If no one knows you exist then no one's going to buy from you.
You gotta spend money to make money…no matter what products you sell
I thought that just because I sold digital products where there's not really any cost price for materials (just the graphic design software and my time), that I could run it on the cheap. I bootstrapped for over a year before investing in instant digital download file delivery. As soon as I did, my sales increased significantly as people no longer had to wait for me to manually email files (especially given I live in Australia and most of my customers live in the USA, so with the time zone difference they usually had to wait until the next day to receive their files).
Not only did investing in instant digital downloads increase my sales, it also freed up a lot of my time. Time that I could then use to make more products, focusing on marketing or other aspects of running an online business.
Boot-strapping will only get you so far. If you're a graphic designer like me, free or less expensive graphic design tools such as Canva or even Microsoft Publisher won't get you very far. Investing in Photoshop at the start of my business was one of the best decisions I made. My designs look way more professional compared to when I was using free graphic design tools and I have so many more design options – I can literally make any type of printable I want using Photoshop which isn't the case with the less expensive graphic design tools. So my point here, is that being too stingy can seriously hinder the growth of your business.
Before making an investment, I consider the following criteria:
Will the investment save me time?
Save me money?
Make something easier to do?
Make something I don't want to do less painful/quicker/easier or do it all for me?
Improve the business e.g. efficiency, customer benefit
If the investment meets the above requirements then I make the investment.
There will always be someone that can do it better than you
Don't try and focus so much on what the competition is doing. You do need to be aware but you don't need to stalk them.
No one can do what you do, the way you do it.
You need a unique selling point
If you sell the same stuff as everyone else you'll earn the same amount as everyone else. Because your products will look just like everyone else's it will be difficult to gain market share and your shop won't be very memorable. You will have to spend a LOT of time marketing in order to gain any traction.
But if you have a unique selling point, or you can put your own spin on a product (especially in a saturated market), and have something special that people can't find anywhere else, that's the business' who gain the most market share.
Mixed pricing tiers
You need products that suit everyone's budget. I try and maintain this product mix:
Free Products (10% of your entire product offering)
These are important so people can 'try before they buy' and so you can prove/demonstrate the high quality of your products. Be wary about offering too much free content though, because people will come to expect it from you all the time, and will wait for your free content, rather than making a purchase from you.
Want to try some of my free products? Subscribe to the blog to access the free printables library!
Low Price Products (40% of your entire product offering)
These are typically less than $10, although could be more if you sell expensive or high-end products such as furniture. These are typically the products that customers will purchase the first time they buy from you. Just because they're priced low doesn't mean you can skimp on quality.
Lower priced products in my shop include: my planner stickers, single planner pages that can be purchased individually such as budget printables, as well as one binder cover design.
Medium Priced Products (30% of your entire product offering)
These include lower priced bundles, or products that are larger. For example, a low priced product in my shop would be a 'mini' planner set with a few planner pages, but a medium price product may expand on that planner set and have a larger quantity of planner pages.
You could also consider the low-medium-high price point from a quality, upgrades or level of customisation/personalisation perspective. So you could take a product from your low price category and offer customisation such as allowing customers to choose their own colors and personalise it with a monogram. Because of the extra features and customization, you can now charge a higher price.
High Priced Products (20% of your entire product offering)
A customer will usually have already purchased a low and/or medium priced product from your shop, before they purchase one of your high priced products.
High priced products are for your 'super-fans' – those that just can't get enough of your products and will buy practically anything/everything in your shop!
High priced products usually contain some 'exclusive' element to them. For example, a limited edition product is only sold as part of a bundle, or a limited time offer such as a discount deal.
In my Get it All printable planners bundle, I include a discount coupon that customers can only get access to when they purchase the bundle. This is in addition to the discount they received by purchasing the planners as a bundle rather than individually – it adds a level of exclusivity/added incentive to purchase.
Examples of high priced products are the Get it All printable planners bundle, Etsypreneur bundle and ecourses.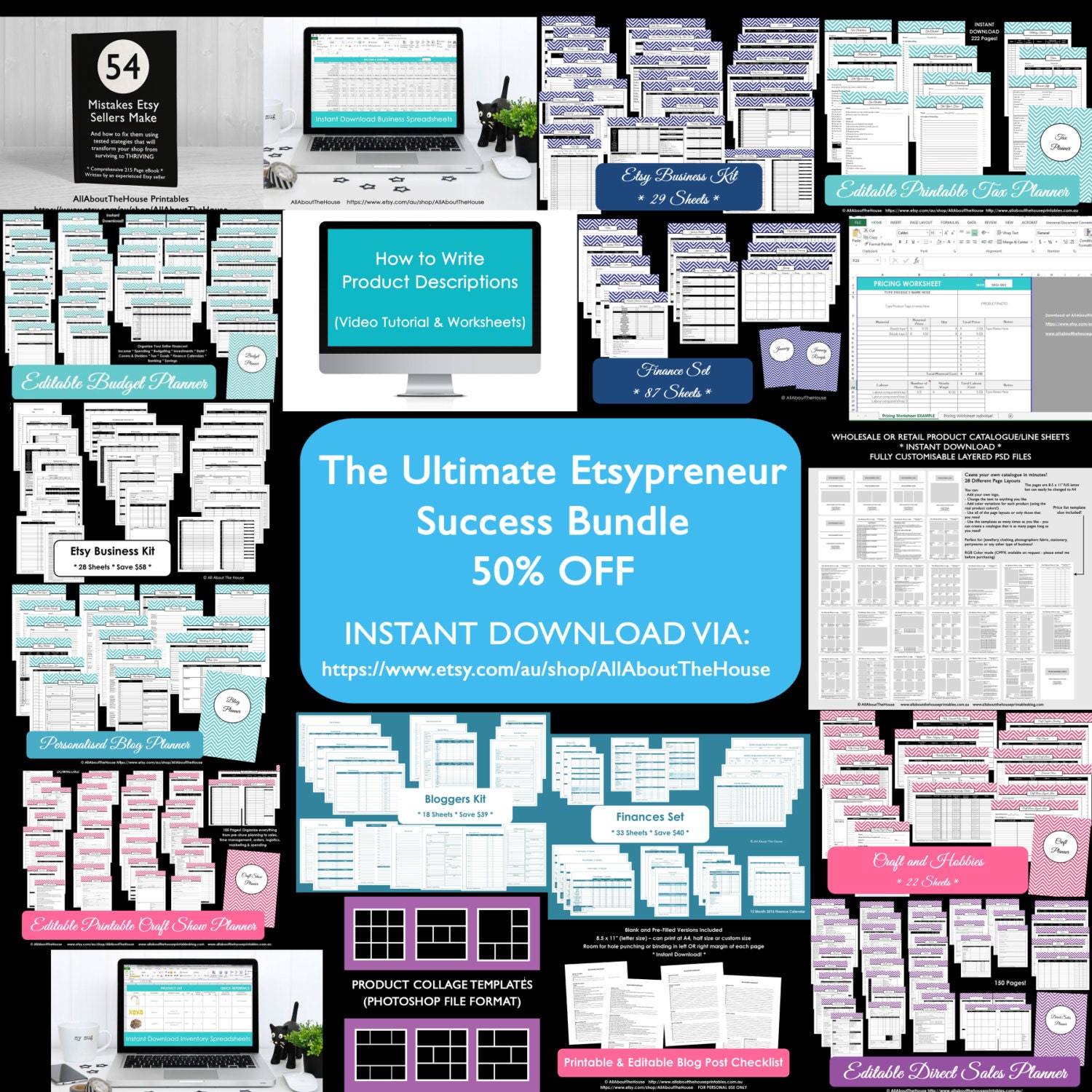 Make more sales on Etsy with the Etspreneur bundle
Don't focus on the little distracting things
It's easy to get side-tracked by quick little products that are fun to make but aren't going to end up with a big payback.
At the start of the year I create a product plan. I plan out exactly what products I want to be launching each month and then break each of those products down step by step into what I need to be doing each week to make it happen.
I find that unless I break them down into bite sized pieces, having a big goal such as creating an ecourse, becomes too overwhelming and I find myself dithering around not being productive and wasting time because I don't know what I should be working on next.
Install the Etsy widget to your sidebar
I noticed I was getting a lot more views to my Etsy shop from my blog after I added the Etsy widget to my blog sidebar. The widget shows a preview of items in my shop. I like that it automatically updates to show products newly added to my show (or renewed listings that have sold). That way people who are regular readers of my blog will usually see something new – it's not showing the same products over and over again like a static image would.
I shared a tutorial on how to add the Etsy widget to your blog sidebar.
Maintain proper records & spreadsheets
Even if you sell on Etsy as a hobby, it could one day become a business. You may as well get your ducks in a row from the get go. Maintaining spreadsheets for tracking income and expenses, pricing and  inventory will make tax time a breeze and your accountant will thank you!
If you sell digital products, offer instant downloads
I touched on this before but I feel it's important to repeat it again. If you sell digital products on Etsy (or your own online store – I use BigCommerce for my online shop), then make sure you have instant digital downloads set up. Customers will love that they don't have to wait and you will save SO. MUCH. TIME.
If there are tools you've been thinking about investing in such as inventory management or accounting spreadsheets, or you want to use the paid version of a task management software such as Asana – do it! If a tool can save you time its well worth the cost. Most tools only cost about $10/month and most are tax deductible 🙂
Related: What Expenses Can I Claim? FREE Printable Checklist of 100 Tax Deductions
I use tools such as Boardbooster for Pinterest automated re-pinning and Planology for Instagram – they save me so much time that I can better spend elsewhere on other aspects of the business such as product creation – my favorite part.
Time is your most valuable asset and once you spend it you can never get it back so spend it wisely.
If you want a business, you need to treat it like one
There are a lot of Etsy sellers that have a shop just for a hobby – something to do in their spare time to make a bit of extra income. That's all well and good but I can tell you from my own experience that if you want a business, you need to treat your Etsy shop like one.
Some of the thing you should do to make your shop look more professional:
Be patient
Success won't happen overnight. Anyone that says they were an overnight success is lying. What they aren't telling you are the countless late nights they spent honing their craft, and all the products that failed before one of them was a success.
Be patient with growth – appreciate where you are and make do with what you have. Don't compare your beginning to someone else's middle and remember that if you love what you do and work at it, the money will follow.
OTHER POSTS YOU MAY BE INTERESTED IN: